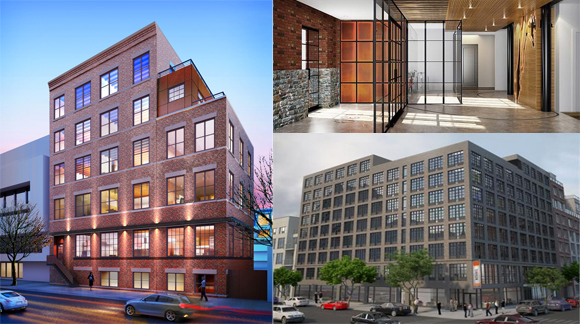 If you've ever searched for an apartment in New York City, you've probably used, or at least have heard of Craigslist. And if your result was anything like the typical experience, you probably saw some small, dusty apartments in need of repair that were not worth the price tag. Sure, great pre-war apartments exist all across Manhattan and Brooklyn, but they aren't your only option.
Some quick searching shows that there are several new developments leasing around the city. They're usually modern, clean, and in perfect condition. And the best part is that the price difference isn't always that far off from some less desirable listings that you might find.
But, of course, there's a catch.
The best and most affordable apartments in new developments don't last very long. But a little knowledge can go a long way. Here are some new apartments to check out while they last.
Abington House—500 West 30th Street—Chelsea
Abington House is a new luxury apartment building in the heart of Chelsea. Living here is a walk in the park—literally. Located along the High Line, residents have prime access to the popular elevated park and all that the vibrant neighborhood offers. The Clodagh-designed apartments boast floor-to-ceiling windows with great city views. Amenities at 500 West 30th Street include a valet, concierge service, fitness center, bike storage, and a rooftop terrace.
Printhouse Lofts—139 North 10th Street—Williamsburg
Located in North Williamsburg within walking distance to McCarren Park, Printhouse Lofts is one of the most anticipated apartment buildings in Brooklyn. The five floors of apartments are equipped with stainless steel appliances, high ceilings, and oversized windows. Residents of 139 North 10th Street have access to amenities that include a virtual doorman, video intercom system, bike storage, laundry machines, and a rooftop deck.
The Nathaniel—138 East 12th Street—East Village
Situated near the borders of the East Village and Greenwich Village, the Nathaniel offers contemporary rentals in one of the most sought after locations in Lower Manhattan. The apartments for rent at 138 East 12th Street feature custom high gloss cabinetry, white oak flooring, and generous closet space. Each residence has its own washer/dryer, and residents can take advantage of an impressive set of amenities that includes a private gym and rooftop sun lounge with reflecting pool.