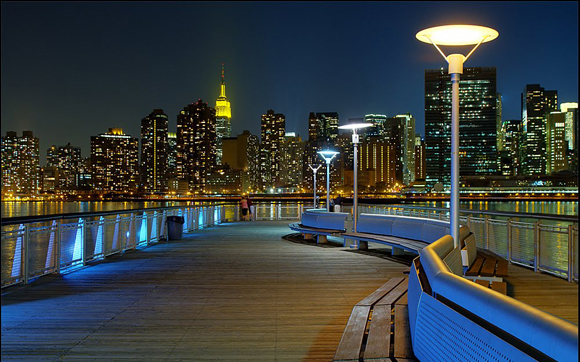 In New York City, it's not only about what's inside of your apartment, but what's outside of it too. If you're looking for an apartment with a view, we've got you covered. In no particular order, here are the best NYC neighborhoods for the views.
Often called America's first suburb, Brooklyn Heights has deep roots and sky-high demand. The neighborhood boasts an array of classic Brooklyn brownstones, as well as new construction buildings alongside Brooklyn's newest crown jewel–Brooklyn Bridge Park. The park, which is only partially open, already offers residents and guests alike a world-class waterfront park, with truly amazing views of Lower Manhattan, the Brooklyn Bridge, the Manhattan Bridge, the Statue of Liberty and more.
Brooklyn Heights apartments with views spotlight: One Brooklyn Bridge Park
The Upper East Side is one of the classic New York City neighborhoods. Residents of the upscale neighborhood have access to Central Park, world-famous cultural institutions, and some truly amazing architecture. With views of all of the above, plus the amazing architecture of the Upper West Side on the opposite side of Central Park, the views from the Upper East Side are top notch.
Upper East Side Apartments with views spotlight: 1160 Fifth Avenue
Williamsburg has solidified itself as one of the top New York City neighborhoods in recent years. Sure, its trendy and energetic, but there's more to the neighborhood than the oft-discussed culture. It's a diverse community appealing to nearly every scene, from food to music to shopping and more; there's a reason it's so popular. And on top if it all, the views from the Williamsburg waterfront are some of the best. Residents of Williamsburg enjoy the views of the East River, the Williamsburg Bridge, and both Lower Manhattan and Midtown.
Williamsburg Apartments with views spotlight: 1 North 4th Place
The Financial District only lives up to its name during the daytime when it's a bustling financial hub. But on nights and weekends, things settle down in the Lower Manhattan neighborhood, fostering easy weekends along the waterfront. There's no shortage of high-rises in the Financial District, with many of these high-end homes offering stunning panoramic views of Manhattan, Brooklyn, and New Jersey.
Financial District Apartments with views spotlight: 8 Spruce Street
Long Island City has transformed from industrial neighborhood to residential community in just a matter of years. What was formerly lined with warehouses is now a waterfront boasting luxury high-rises, an incredible park, and one-of-a-kind views. Located directly across from Midtown, Manhattan, Long Island City residents see the island's landmarks like the Empire State Building and the Chrysler Building, as well as the Queensboro Bridge and Roosevelt Island, all from the comfort of their homes.
Long Island City apartments with views spotlight: 4610 Center Boulevard