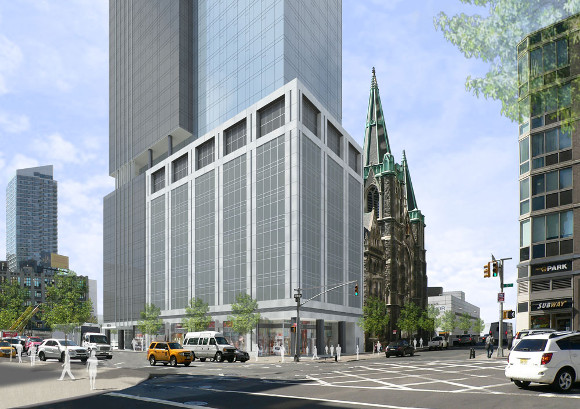 The developer responsible for the exceptionally glassy condo structure known as One57 is at it again. Extell Development is constructing a 52-story tower at 555 Tenth Avenue and 41st Street. Renderings for the project reveal how the glassy structure will loom among its more modestly stacked brick-faced neighbors.
The tower sits snuggly next to early twentieth century neo-Gothic marvel St. Raphael's Church, from whom Extell purchased 140,000 square feet in air rights for $16.46 million back in July 2012. And in August 2011, Extell Development took on a 99-year lease for the new structure with the estate of Sol Goldman.
The new development is one of many mega-projects that are welcomed additions to a rapidly developing West Side of Manhattan. The 555 Tenth Avenue tower is slated to bring 600 new rental apartments to the area; 120 of the units are designated for low-income residents. Extell adheres to a community facility component by including a 300-bed student dormitory exclusively on floors two through seven. Renters and students will enter through separate entrances.
The renters will solely enjoy the tower's many amenities, which include a game room, kid's lounge, bowling alley, lap pool on the ninth floor, yoga studio, outdoor lounge space and workout area, dog run, rooftop pool, dog-washing area in the basement, indoor/outdoor fireplace, club room, and dining area. Architects SLCE designed the project, which will be complete in 18 to 24 months.
Contact us today if you're interested in any of these rentals.