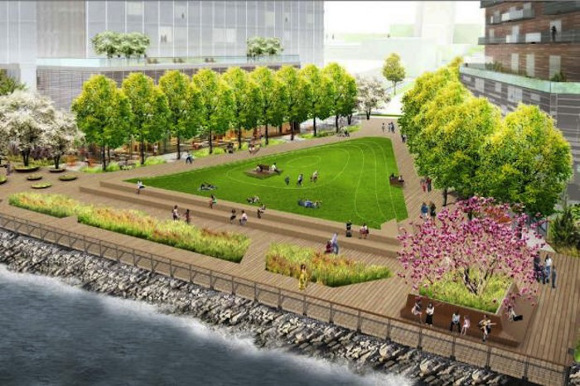 The Queens waterfront development Hallets Point is making headway. Developer the Durst Organization bought the site for more than $100 million from Lincoln Equities Group in exchange for a 90% stake in the Hallets Point Project. The development will neighbor Astoria Cove, which has yet to receive approval with the Planning Commission.
The Hallets Point development is planned to have 1,921 market-price rental units, with an additional 483 affordable units, which will be split among seven buildings. In addition to the inclusion of retail space and a waterfront esplanade, in true megaproject form, the development will also host a school. As part of the project, there will also be two buildings on land belonging to the Astoria Houses, a nearby affordable housing development. Members of the Astoria Houses Resident Association were not only receptive to the plans, but actively supportive, viewing it as an opportunity to help revitalize an area marked by many industrial buildings and few retail spaces.
Meanwhile, Astoria Cove is waiting on a decision from the City Planning Commission, which would introduce 1,700 units to the area. Previous plans were struck down by both the borough president and community board on account of providing an insufficient number of affordable units. The city is determined to see that roughly 30% of its units designated for affordable housing, a substantial increase over the developer planned 20%. If everything goes smoothly, Astoria Cove will break ground in two years.