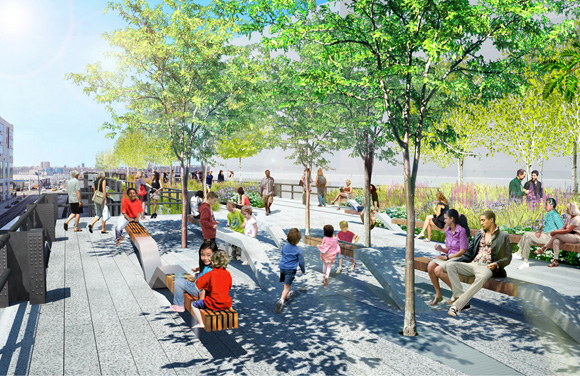 The High Line was completed a few weeks back, pretty much wrapped up a project that's been in the works for the past 15 years. The third section completes the 22 block, 1.45 mile park, and adds a more staidly designed section to round out the previous two, though it maintains a certain rawness - it implements many of the plants that had established their roots since the line's original abandonment. Of course, one more component remains to be opened; though not a main section, a spur on 10th Avenue seems to be planned essentially as a massive, walk-in terrarium, which may be opened at some point in the middle of next year.
Needless to say, its development has encouraged other residential developments along its path. As for projects that have yet to get the ball rolling, Lalezarian Properties is looking to establish a trio of buildings in close proximity, the tallest of which is planned to reach 35 stories, with the remaining two hitting just over a third of that at 13 stories. The whole project will create 374 units. Retail space is on the docket, but in a very Chelsea-esque vein, the developers are also entertaining the idea of incorporating gallery space.
Pending its approval and the usual hiccups of development, they'll join the Abington House and its 312 rental units. The Abington House is offering an astounding 30,000 square feet in amenity space, which comes in addition to its proximity to the High Line, and will include a "sanctuary room" and outdoor terraces.
The appropriately named AVA High Line at 282 Eleventh Avenue has 710 rental units in total. Despite its glassy exterior, it's actually rounded out by small details, like its BBQ fire pit. In addition to its bicycle storage, it also has LEED Certification, so tenants are effortlessly living green.