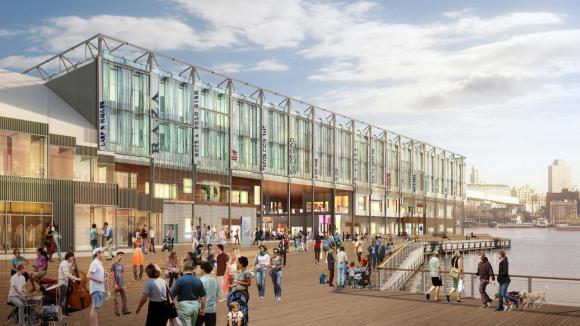 A neighborhood with rich history, still rebuilding from Sandy, Fulton has attracted a young crowd of New Yorkers. Apartments in this area are up to $1000 a month cheaper than in Tribeca or the West Village of the same comparative size. Fulton area buildings feature desired amenities including gyms and roof decks and offer apartments that are newly renovated.
Fulton is a growing neighborhood for young professionals in their 20's and 30's who work in the nearby area. There are 8 train lines that to go through Fulton, a high selling point for its almost unmatched transportation options that also include buses and NY Water Taxi.
Once considered one of the world's finest ports, Seaport's history dates back to the 1600s. Historic ships, cobblestoned streets, and nineteenth century architecture help retain the heritage in this historic district.
Much of the area was damaged during Superstorm Sandy, and efforts to bring back businesses that left or relocated after the storm is still an issue in rebuilding the infrastructure of Fulton. The closing of the South Street Seaport Mall in 2013 deterred many visitors from heading to the area.
The Hughes Corporation is developing the Seaport redevelopment project and plans include a restoration of the Fish Market Building, boutique-style shops, and possibly a 50-story mixed-use tower. The proposed Seaport Tower has been met with opposition by the Seaport Working Group task force that would like to see a shorter tower.
The old Pier 17 has now been completely removed and the new Pier 17 is scheduled to open in 2016. The renovation of the Fulton Market Building was approved by the Landmarks Preservation Commission and will open in the fall of 2015 with some tenants moving in next summer.
Fulton is a neighborhood where everybody knows each other. That connectedness is a reason why many residents love the area and stay there. Stunning-views of the Brooklyn Bridge and public accessibilty to the historic ships continue to draw visitors while the neighborhood awaits the redevelopment plans to revitalize South Street Seaport.