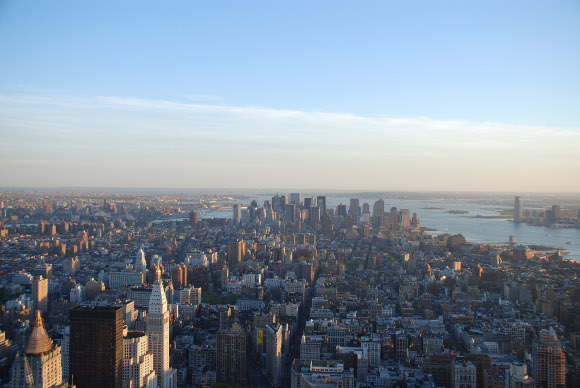 New York City has been ranked as the country's most "livable" city for people under 35, surpassing 100 of the most populous cities in the country, according to Vocativ's 2014 "Livability Index." The city stole the trophy from last year's holder: Portland.
Reasons for NYC's livability include the fact that "It's home to the country's best public transportation system, has umpteen takeout options for every taste and offers racial diversity that rivals the U.N.," according to the site.
In addition to this, the site cited data on diversity, job prospects and salaries, transportation, food, entertainment, nightlife, and even the cost of light narcotics, which shouldn't surprise anyone, seeing as the Brooklyn DA's stance on grass use is shall we say less than stringent. "Livability" sounds great, but it goes without saying that high-quality soft infrastructure is made much sweeter when rested on a solid hard infrastructure. Although the famed transit system is solid (except for the manhole-fire on W 4th St), New York's rising housing rates are worth careful retrospect.
For the ninth consecutive month, the median rent saw a year-over-year increase, up 4.4% to $3,235. In Brooklyn, following a two month decline in year-over-year rents, rents are currently up for the second straight month, to $2,948 (a 3.1% year-over-year increase). A surge of new rentals in Brooklyn indicates that many new tenants are being priced out come lease renewals.
In Manhattan, the average rental price for studios rose 7% to $2,590 a month in November, while the average rental price (ARP) for a one-bedroom went up 6.9% to $3,396. By contrast, ARP for two-bedroom increased only 0.1% to $5,201, and decreased 10.5% to $8,247 for 3+ bedrooms.
Manhattan's median rental price (MRP) increased to 4.4% in November, up to $3,335 per month. That month, its listing inventory fell to 11.4% (to 5,426 units), and vacancy rate fell to 2.31%. New rentals increased 20% to 2,862.
Brooklyn had similar trends despite the number of new rentals more than doubling to 581, which Miller explained as tenant resistance to rising rents and new development. Brooklyn's MRP in November rose 5.3% to $2,948, $287 less than Manhattan.
Queens' numerical changes, however, are more difficult to discern, since they are skewed by a surge of new product. Despite this economic obfuscation, numbers show that the MRP dropped 8.2%, to $2,525.
Jonathan Miller, the president of appraisal firm Miller Samuel and author of the report, cites rising employment in the city as the cause of New York City's overall growth in ARP and MRP. In October, New York City's unemployment dropped to 6.4%, the lowest in six years. Studios and one-bedrooms saw the biggest price gains in comparison to other unit types last month, according to Douglas Elliman's monthly rental report. Miller says rents for entry apartments (i.e. studios and one-bedrooms) are rising faster than the balance of the market because of rising employment and tight credit. He adds that tight credit "is keeping first time buyers stuck in rental market, creating a log jam, so to speak."
Citi Habitats, which also released a rental report on the eleventh, said that 11% of rental deals in November included a landlord incentive--either a free month's rent or payment of the broker fee. These incentives are used to drive activity, lest landlords be forced to sit on the property sans tenants.