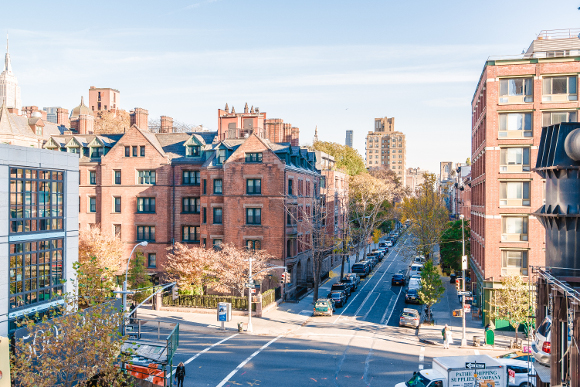 Many old, decrepit buildings are seeing new life! Here are three buildings in particular that seem to have some promising results in mind.
Alice Kenney, a long-time private owner originally bought the building – and 16,000 square feet of additional air rights – in 1973. Raphael Toledano recently bought this six-story Chelsea building to the tune of almost $42 million. Toledano plans to bring on some pretty hefty renovations, including the addition of two floors: 20 units, eight of which will be penthouses. "Of the 39 residential units, 25 are vacant or market rate, and the remainder are rent-regulated," writes The Real Deal. Toledano also intends to add a doorman and a gym to the basement. Two of the office units will be transformed into "townhouse-style" homes with a separate entrance. The developer is looking to convert the property into "the most high-end and most luxurious building in Chelsea," and Toledano is hoping to price rents around $100 per square foot for the units. The building will be named after Toledano's wife, "The Devorah at Chelsea."
Originally completed in 1896, 40 Wooster Street in the Soho began as a six-story office building. The Landmarks Preservation Commission gave the green light for the restoration and conversion of the building into residential units. The building will have four apartments with ground floor retail, as well as a rooftop addition. Ran Elisaf's Northwind Group is developing the property, which was purchased for $16.4 million last year. According to Curbed, the building's original cast iron and other surfaces will be cleaned, painted, and repaired where needed, in order to remain true to the character of the Soho Cast Iron Historic District. The storefront will maintain its historic appearance. A new elevator shaft will be constructed. The sixth floor (upper floor of the duplex starting on floor five) will have 21-foot ceilings and connect to a private rooftop cabana with an outdoor spa and fireplace.
Another office gone residential building, 212 Fifth Avenue in Gramercy Park was originally constructed in 1913. The Landmarks Preservation Commission approved restoration work, though many of the details are still being compromised on. The original proposal included the enlargement of the penthouse, work on the third and fourth floor windows, work on the first and second floor storefronts, work on the 21st floor window, and extensive modification of the south face of the building including reconstruction of the parapet. The number of elevators would be be reduced from six to two, and the residential entrance would be done in bronze, while the retail entrance would be done in aluminum. Many of the changes were rejected because they did not maintain the classic characteristics of the Madison Square North Historic District, and therefore set it apart too much. Consultant Jacqueline Peu-Duvallon and architect David Helpern of Helpern Architects are going to be responsible for the redesign. LPC Chair Meenakshi Srivinasan said it was positive that the building is coming back to life, calling the proposal "sensitive and respectful."