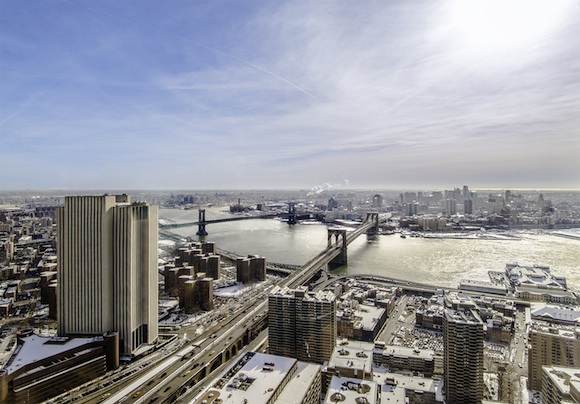 Photo: Luxury Real Estate Manhattan's view from downtown overlooking Brooklyn
Innovative office space startup extends their business strategy to living spaces, representing a shift in lifestyle needs for New York buyers.
Last week according to 6sqft, the innovative office space startup, WeWork, just launched a co-living apartment concept on Wall Street. Originally designed to offer month-to- month office spaces for startups and freelancers, WeWork seems to be extending their liberal business model into living spaces. Coupled with WeWork, as of March 2015, 6sqft reported another story detailing the cost of community Micro-Apartment living in NYC". Which begs the question, "what do these two different types of living spaces have in common and why are they relevant for buyers today?" Essentially, the spaces represent a shift in lifestyle for New Yorkers and a desire to live more economically and communally.
By definition, a micro-apartment qualifies as a living space occupying 400 sqft or less, while a co-living apartment concept has ambiguous guidelines. However, neither are entirely new concepts for New Yorkers. As reported by LRH in February of 2015, "Many single New Yorkers already live in what can be considered a 'micro apartment'. The concept of micro-apartments is not a new one for New York City, prior to 1987; micro-apartments were built throughout Manhattan before zoning laws were enacted to prevent overcrowding in apartment building."
The same goes for communal living during the early 20th century; many New Yorkers lived communally in tenements, boarding houses, and single room occupancy buildings (or SROs). However, post-WWII developers and architects strayed from communal spaces and instead shifted their designs to accommodate single families and couples.
That being said, designers and communal space managers have seriously upgraded these concepts, making them fully-modernized and bordering on luxury. Much like an adult summer camp, the new residents of WeWork apartments have access to spacious bedrooms, communal cupboards with free coffee and essentials, and a community manager responsible for programming activities for the building. Every floor of the building has a different theme, including a yoga studio and movie theater.
Although certainly innovative in their methods, WeWork is not the first company to launch communal living spaces in the NYC area. The shared workspace startup Common launched a similar concept to WeWork in Crown Heights, Brooklyn . The Brownstone holds a 19-bedroom, four-kitchen living space, where guests have access to all four suites and similar goodies and amenities to WeWork's building profile.
However, these Micro-Apartments and Communal Living Spaces face criticism in light of their expense and housing policies. According to The New York Times, communal living isn't necessarily a more economical , and renters can expect to pay anywhere from $1400–4000 a month to live with "like minded individuals."
Despite the price-tag, many of these spaces are fully outfitted and catered towards renters needs. Many prospective renters and buyers may find them appealing for their sustainable mission and socially inviting environment.