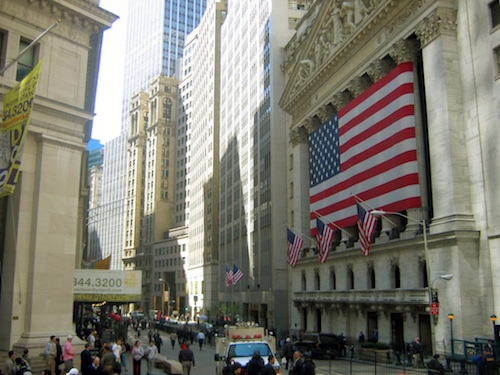 Building on the right, the current New York Stock Exchange, on the left, the former.
The historic 1950s-era building and former home of the New York Stock Exchange, will be getting renovated from offices to luxury rentals.
The former New York Stock Exchange building in the Financial District at 20 Broad Street had its lease acquired by Metro Loft for $185 million with the plans to completely convert the office space into luxury rentals.
Last December, Metro Loft signed the lease from Vornado Realty Trust and are looking to spend $100 million gut renovating the 1950s-era building. In the terms of the lease, the building will go back to the NYSE in 2081, giving Metro Loft a sufficient amount of time to both convert and operate the building as a rental. This Financial District-based firm has also transformed several other Lower Manhattan office properties into residential spaces. But according to Crain's, renovating this building won't be seamless, as the three lower floors are much larger spaces than the upper ones and as a result, these floors are planned to be retail spaces.
Their plans of renovation on this 400,000 square foot building is expected to begin at the end of this year, and looking to be completed at the end of 2017.
These renovations include adding six more stories to the already existing 27, inevitably altering the facade of this iconic building. Tenants can rent one of these luxury apartments with options from the available 200 studios, up to a three-bedroom apartment, starting at $2,600- $6,500. Once completed, the buildings amenities will include lounge, exercise room, rooftop terrace atop the 33rd floor with a pool.