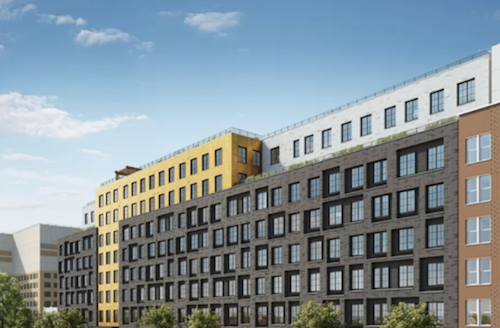 Rendering courtesy of CetraRubby
A large rental development is coming to Brooklyn, at 350 Clarkson Street. Hudson Companies announced their plans for the eight-story building, which will be designed by CetraRubby.
As of right now, the plans reveal that the development will encompass the entire block–225,000 square feet of space. There are also plans to make 250 of the apartments market price, with no announcement of how big these units will be, or what they will rent for. At the ground level, the developers are planning for 6,000 square feet of retail space.
The developers have set aside room for the building's amenities, which include a state-of-the-art fitness center, yoga room, game room, a private screening room, and a rooftop terrace.
The facade of the building was also unveiled and predominantly features sleek dark gray, with hints of a variety of different-hued bricks, including yellow, red, and white with large windows– a simple design that will help it blend in nicely with the Prospect Lefferts Gardens neighborhood.
The developers are expecting to begin leasing towards the end of 2018.