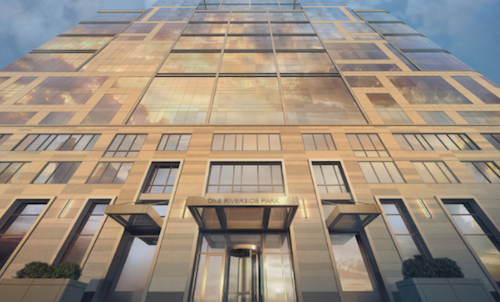 Facade of One Riverside Park
The Upper West Side is typically known for its classic brownstone townhouses that line the streets and are only a short walk away from Central Park. While most of those still stand, over the years the neighborhood has gotten a large amount of modern apartment buildings that give the area a beautiful mix of old and new. Here are three of the hottest and newest additions to the UWS.

Interior of One Riverside Park
Just blocks from the iconic Lincoln Center at 50 Riverside Boulevard is One Riverside Park, a 35-story tower that holds 219 rental units, each with views of the Hudson River through floor-to-ceiling windows that allow for natural light. The modern open kitchens feature stylish cabinetry and marble countertops as well as stainless steel appliances. The building includes a state-of-the-art fitness center, yoga studio, pool, landscaped garden, and more. Located just a short walk from the Hudson and only a few blocks from Central Park, this apartment building allows you to feel like you've escaped the busy city.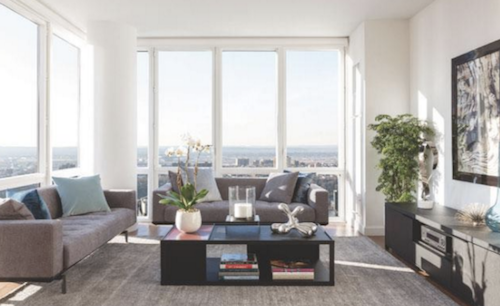 Interior of The Encore
At 175 West 60th Street, you will find a 48-story tower that holds 258 luxury rental apartments that feature solid bamboo strip flooring, over-sized windows, 9ft ceilings, and an open layout. The Encore is a LEED certified building, constructed with materials that are efficient and environmentally friendly. Built in 2016, it includes amenities such as a lavish 50ft glass top swimming pool that sits on the roof, lounge room for residents to relax, private storage room, and more. The residential building is located between the shops and eateries in Columbus Circle as well as the greenery of Central Park.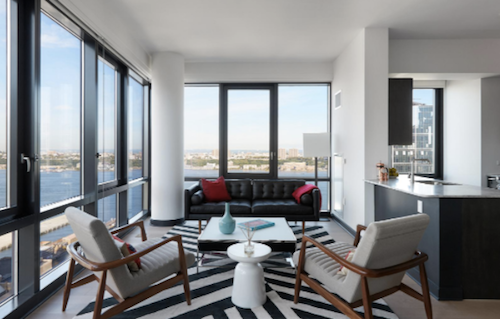 Interior of 21 West End Avenue
Sitting a block away from the Hudson River is the 43-story residential building, 21 West End Avenue. Built in 2016, the tower has 616 apartments ranging from studios to three-bedroom homes, each with marble countertops and floors, stained cabinets and rare views of the Hudson River right from your living room. Residents can enjoy the private rooftop terrace, library, bar and cafe areas, pool, and spa room. Situated right in the heart of the Upper West Side, it's right near the best New York has to offer, from elegant boutiques to five-star restaurants.