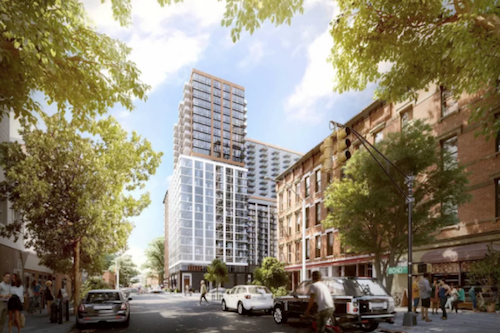 Rendering of 33 Bond Street via Curbed
A massive rental building is coming to Brooklyn at 33 Bond Street. The building will be developed by TF Cornerstone's, making this their first residential development.
The 25-story building will hold a total of 714 rental units, 143 of which will be set aside as affordable apartments. They will average around 790 square feet in size, all featuring an open layout, floor-to-ceiling windows, and floors lined with oak. Nine apartments are already on the market and range from $2,225 per month for a studio to $5,170 a month for a two-bedroom, two bathroom apartment.
The developer's goal is to attract a new generation of professionals and entrepreneurs through their unique planned amenities, which include a 2,000-square-foot farm-to-table coffee shop, an on-site working space, an elevated park, a fitness center, bike storage, and more. At the ground floor of the tower, there will be 55,000 square feet of retail and parking space.
The project was first announced in 2014, and is expected to be complete by Summer 2017.