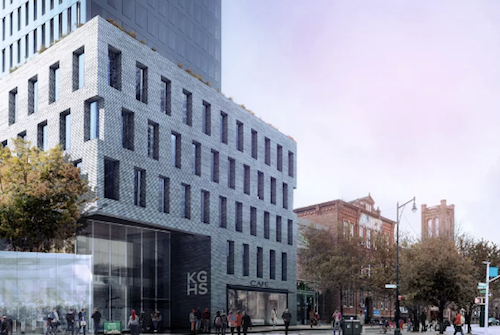 Rendering of building courtesy of Alloy Development
A massive mixed-use project has just been filed for Downtown Brooklyn by Alloy Development. It will bring not only a slew of apartments, but also two schools, a cultural institution, and office space.
Construction will be built in two phases - first, the 38-story residential building that will be 480-feet tall and hold 900 rental apartments, all of which will be mixed-income, along with two 350-seat schools, which are planning to welcome students by 2022.
The second phase of construction will require less demolition and more renovation. The current historical Civil War infirmary's exterior will be preserved, but renovated into 15,000-square-feet of cultural facility. The building at the corner of Third Avenue and Schermerhorn Street will also stay, but will be converted into retail space as well as amenity space for residents. The second phase will also include building a 74-story, 920-foot tower which will hold market rate apartments and office space. This phase is planned to be completed by 2025
The building will take up an entire block at 80 Flatbush. The all-in-one tower will cover the critical need for new public infrastructure in the Downtown Brooklyn area, which has been growing fairly quickly.