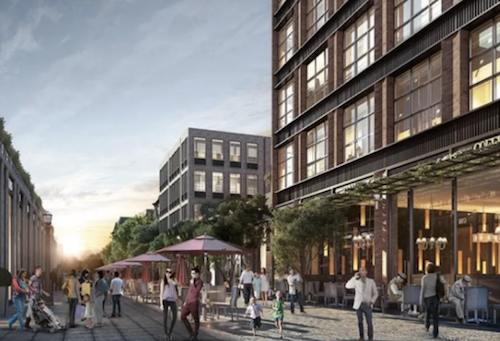 Rendering by Avery Hall Investments
Plans are finally moving forward for a rental tower to replace for a rental tower to replace a Brooklyn grocery store, as the project has officially been approved by Park Slope's community board. The developer, Avery Hall Investments', initial proposal for the tower was 35 feet above the zoning height, which caused the approval process to take a bit longer than usual.
Now that plans are moving forward, the current Key Food Grocery Store at 120 Fifth Avenue will be replaced with two towers, one standing six-stories tall while the other will sit at the corner of Fifth Avenue and Baltic Street, standing four-stories tall. The two buildings will be connected by a plaza.
In total, the development will hold 165 units, 41 of which will be set aside for affordable housing. At the ground level, there will be 50,00 square feet of retail space, 22,000 of which will be for a new grocery store, and below that will be 186 parking spots for residents.
Construction should be starting spring 2018.