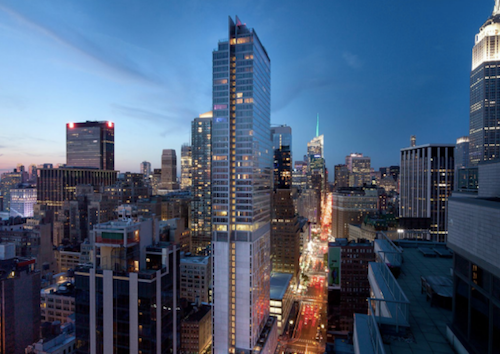 Chelsea continues to be one of the most desirable neighborhoods in the city. With new residential buildings constantly rising, it's easy to see why people are drawn to this area. Some of New York's most ambitious additions have recently risen in Chelsea, but there is one veteran skyscraper that deserves to still be in the spotlight. The Beatrice has been centered in Chelsea for eight years now, but its luxury units and top-notch amenities can still compete with its modern neighbors.
The Beatrice is located at 105 West 29th Street stands 54 stories tall with 301 apartments. This post-war mid-rise not only hold rentals but hotel rooms as well. Residents take up floors 26 through 53 while the hotel makes up the remaining half of the building.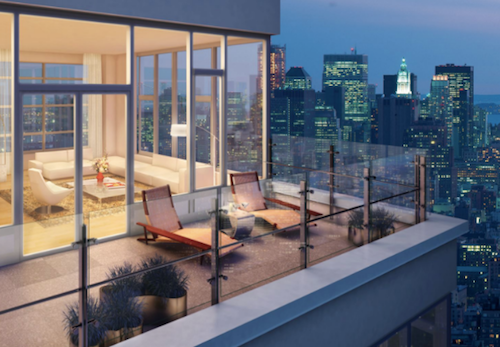 This rental offers studios to two-bedroom homes with a variety of layouts to choose from. Each home features wall-to-wall windows allowing not only natural light, but also gorgeous views of the city and Hudson River. Along with that are twelve-foot high ceilings, spacious floor plans, hardwood flooring, and an open kitchen with stainless steel appliances and granite countertops.
Residents at The Beatrice are given private access to all of its convenient and entertaining amenities such as full-time, full-service concierge, a 3,700 square foot lounge that sits at the 54th floor that includes a pool table, fireplace, and comfortable seating, private parking, state-of-the-art fitness center, and more. In Chelsea, you will find the hottest art galleries, restaurants, upscale clubs and bars, iconic parks, and more.
Homes are still available at The Beatrice. Studios start at $3,750 per month, one-bedrooms start at $4,850 per month, and two-bedrooms run from $7,950 per month.