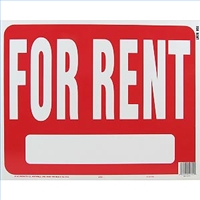 The three most important words in real estate, as even non-real estate types know, are location, location and location. This would be why we worked so hard on the "Apartments Near" modality at Luxury Rentals Manhattan. But if we could add a fourth word to real estate's holy (and wholly redundant) trinity, it would be "scarcity." You don't need to be Paul Krugman to know how this works -- the fewer available rental apartments there are, the more prices tend to climb. (Scarcity has always been a big part of the appeal of no-fee rental apartment listings -- in addition to the fact that no fee rentals are a great value, naturally -- but we're already seeing the effects of an improving NYC real estate market in the shrinking number of no-fee rental apartments) The fact that Manhattan's rental vacancy rate continues to fall further and further below one percent suggests that, as previous studies have indicated, the recovering NYC rental market is going to lead to higher prices on Manhattan rental apartments. With the usual caveat that there are still plenty of good deals on Manhattan rental apartments to be found -- and with the reminder that you can browse Manhattan rental listings here to find them -- let's take a look at what Citi Habitats' new Manhattan rental market report means for NYC rental apartment hunters, and everyone else.
Good/bad news first: Manhattan rental vacancy rates in July were nearly half what they were a year ago at this time -- down from 1.67% to just 0.88%. Among Chelsea rental listings, the vacancy rate was just 0.55%; for West Village apartments, it's an astonishing 0.44%. "[The overall .88% figure is] down slightly from June's .90 percent and May's .98 percent, according to the report, which is based on Citi Habitats' rental transactions. July's level marks the lowest vacancy rate seen in almost three years," The Real Deal's Amy Tennery writes. Some of this is probably due to the fact that July is always a busy month for Manhattan apartment rentals, and Citi Habitats president Gary Malin does predict that the usual seasonal decline in activity will arrive as the weather gets cooler. But the rental market is clearly humming along at a pace that's notably more favorable to landlords than renters at this point. So, the fact that NYC apartment vacancy rates continue to fall -- to their lowest rate in three years, if you're just joining us -- would, logic suggests, lead to a rise in NYC apartment prices. Um, right?
Not so much, it turns out. "Rents stayed relatively stable compared to June. Studios and one-bedrooms remained mostly unchanged, with average rents of $1,818 and $2,492, respectively," Tennery reports. "Two-bedroom unit rents declined 2 percent with an average cost of $3,404 and three-bedroom apartments climbed 1 percent month-over-month, with an average rent of $4,622." How and why rents have not spiked alongside constriction in supply and continued strong demand is... well, something your blogger can't really speak to authoratitively. Malin suggests that concerns about the broader economy are tempering the market somewhat, and that would make sense. But given that prices do seem to be climbing back in many neighborhoods, it would certainly appear that this would be a good time to get in on that shrinking pool of apartments for rent in Manhattan, while the getting is still pretty good.