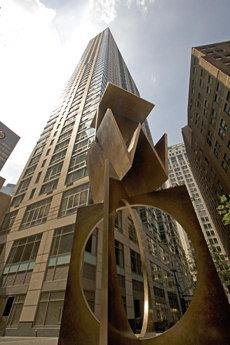 NYC dwellers of long standing -- or even longish standing -- remember a time when the Financial District was, finally, just that: a place where finance got done and power lunches were devoured, and just about that. Restaurants were closed by dinner time, bars locked up after happy hour, and grocery stores were something that existed 20 or more blocks north. That old Financial District doesn't really match with the Financial District of today, which has become one of Manhattan's fastest-growing and most promising residential neighborhoods -- and, not for nothing, also home to what are, per square foot and despite a recent rise in prices, the least expensive Manhattan apartments for rent this side of Harlem. The grand buildings of the Financial District -- many of them luxury rental buildings converted from previous lives as the office towers that used to define the neighborhood -- are home to a bunch of impressive and impressively appealing Financial District rental apartments but the neighborhood itself is, as the New York Observer's Guelda Voien points out, increasingly home to a vibrant and well-rounded neighborhood -- one where stroller-pushing families comfortably share space with party-throwing twentysomethings. Not bad, honestly, for a neighborhood that used to be a ghost town after the closing bell -- and nothing compared to what the Financial District promises to become over the next decade.
"Since its inauguration in the last couple of years as the epicenter of young yuppie families, marketers, developers and other real estate types in the Financial District have sought to mold it as all the more a toddler-oriented mecca, a sort of southern Tribeca for clans that can afford it," Voien writes. "Stuff like the $4.5 million Imagination Playground and good public schools continue to attract families, not to speak of the perks anyone can enjoy: safe, European-feeling streets that are quiet as soon as the closing bell rings. But what about the young single holdouts? Well, they're having fun holding down the fort."
For ardent New York-ophiles, it's always exciting to watch a neighborhood take off -- in this case, in contrast to the emerging "Linc" neighborhood in the Hudson Yards area, in a neighborhood that has a lot of history. For real estate watchers, though, Voien's piece is a treat both as a reminder of the many great places to live in the Financial District and as a look into the internal dynamics of different FiDi luxury rental buildings. Here at Luxury Rentals Manhattan, we're more concerned with things like amenities, apartment dimensions and mass transit access than we are with which buildings are party central (200 Water Street, apparently) and which are big among the stroller-and-preschool set (luxury condo 99 John), and which offer an ideal balance between those two poles (2 Gold, above) But it's always nice to know more -- and to see a Manhattan neighborhood simultaneously continue to take root, and take off.