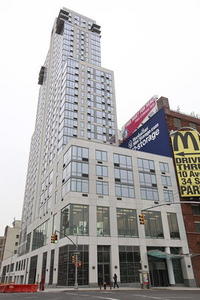 It's a pretty common refrain here at the Luxury Rentals Manhattan blog that the return of the Manhattan rental market to something like its old gangbusters status is a good thing. That's because, in a macro sense, it is. But it's also because we're working on talking ourselves into it. The renter's market of the great Manhattan rental market slump was tough on landlords and developers, but it was great news for those browsing NYC rental apartments, who suddenly found themselves faced with a wealth of no-fee rental listings and landlords seemingly eager to give away months of free rent and other other concessions. Now that the Manhattan rental market is healthier, the renter's market is generally a thing of the past -- a fondly remembered silver lining surrounding an ever-shrinking cloud, if you're a metaphor type, and a casualty of economic trends if you're more literally inclined. But, as we try to remind readers (and ourselves), there are still great deals to be found on Manhattan rental apartments. There are still plenty of no-fee rental listings out there, for instance, and there are also plenty of Manhattan luxury rentals offering concessions on leases. The surprising part, though, is the identity of those concession-granting Manhattan luxury rentals. From The Ohm -- a new construction luxury rental in Chelsea pictured near these words -- to a host of other new construction rental listings in various Manhattan neighborhoods, some of Manhattan's most concession-friendly rental listings happen to be at some of Manhattan's hottest new construction apartment buildings. No, really. More after the jump.
At the estimable NYC real estate blog The Apple Peeled, author Red Delicious breaks it on down. "Regardless of seasonality, when a new building comes online, time is its enemy," Delicious (Red?) writes. "Developers are looking to rent out their property as quickly as possible, meaning that it's worth it to them to discount rents via concessions such as free rent rather than have their plethora of units sit idle on the market." For NYC apartment hunters, that means that the best places to look for concessions on Manhattan rental apartments might be the last places they'd expect to find them -- big-ticket new construction luxury rentals such as the aforementioned Ohm, its posh Chelsea neighbor The Beatrice, and Upper West Side superstar Columbus Square.
Of course, as Mr./Ms. Delicious points out, these are luxury rental listings, and thus start at a higher price point than many other Manhattan rental apartments. But knocking a month or two of rent off a one- or two-year lease has a way of bringing things into line, price-wise -- at the risk of pointing out the obvious, that's why Manhattanites were so gonzo for concessions during the renter's market. In a Manhattan real estate scene that's currently offering more good news for landlords than apartment hunters, here is a little bit of inarguable positivity. To rephrase an earlier point: it's a silver lining without a cloud, for the metaphorically inclined. An opportunity to save on apartments at some of Manhattan's hottest new construction rental buildings, for those less so.