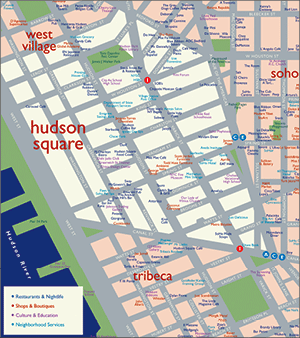 The first rule of Manhattan real estate -- of real estate in general -- is said to be "location, location, location." Which, as conventional wisdom goes, isn't the silliest thing in the world. But Manhattan real estate observers could be forgiven, in recent years, for believing that at least one of those "location"'s could be swapped out for "branding." New Manhattan neighborhoods are nothing new -- New York City is a study in flux, and all it takes is one zoning decision and a few bold luxury rental developers to turn a neighborhood like the nowheresville around the Lincoln Tunnel entrance into "The Linc," a newly branded neighborhood complete with its own green luxury rental listings and superstar new rental developments such as Emerald Green. What sets Hudson Square apart from The Linc, besides a much cooler name -- The Linc? You're sure about that? -- is that this new neighborhood is actually one of Manhattan's oldest neighborhood. Hudson Square is, for all intents and purposes, West Soho. And it's not exactly "new," either, given that it has been around for centuries -- the Ear Inn, one of Manhattan's oldest nightspots, is a Hudson Square landmark -- and was Manhattan's printing district back when Manhattan had things like printing districts. But a recent re-branding campaign has helped Hudson Square re-make itself as one of the hotter residential neighborhoods in lower Manhattan, and a new campaign to remake the city's streets into leafier, more pedestrian-friendly thoroughfares suggests that it's time for all of us -- those looking for apartment rentals in SoHo and those of us who just dig NYC real estate -- to give this old-new neighborhood a new look. So, yeah: let's look at Hudson Square.
Back in August, the New York Times profiled Hudson Square, which has slowly but steadily remade itself from an area zoned and built for industry into a funky, low-key residential stretch of SoHo. "Most of the neighborhood is still zoned for manufacturing, which makes more new residential construction difficult," Jake Mooney wrote in the Times. "In the nearer term, Hudson Square Connection is planning a series of streetscape improvements aimed at making the area's wide sidewalks more inviting and de-emphasizing the presence of the Holland Tunnel entrance. Short-term efforts will very likely include tree-plantings and storm-water and traffic management. A long-term plan is in the works, to go into effect over the next few years." There was work to be done -- Hudson Square, like the Financial District a decade ago, is crucially short on Manhattan neighborhood amenities such as grocery stores and laundramats, and ambitious city projects such as a striking new LEED Gold city rock salt storage facility (seriously) put off some residents -- but there was both the will and the way to get it done. And so, as promised, it is getting done.
On Friday, the Hudson Square business improvement committee known as Hudson Square Connection tabbed superstar architecture firm Mathews Nielsen Landscape Architects to spearhead a neighborhood beautification effort in advance of a push to create a more walkable, livable, lovable Hudson Square. Given everything that Hudson Square has going for it -- a prime SoHo location adjacent to several trains, a host of appealing pre-war art deco architecture, much of it primed for luxury residential redevelopment -- it would be surprising if the city did not re-zone the area for more residential development. In the meantime, Hudson Square is going about getting itself spruced up.
"Since it is still in early stages, details of the plan have yet to be fleshed out, but the goal is clear," Crain's Amanda Fung writes. "To make Hudson Square a destination open from all different directions and neighborhoods (TriBeca, Chinatown and SoHo are all nearby), while balancing the pressures of car traffic in the area with increasing foot traffic, according to Signe Nielsen, principal at Mathews Nielsen Landscape Architects. The design will also support the growing number of residents and tourists in the area." While it remains to be seen just what kind of luxury rental listings will be available in Hudson Square in years to come, it's clear that this is a neighborhood to watch -- simultaneously a new Manhattan neighborhood and an old one, inarguably a unique one, and potentially one of Manhattan's hottest residential neighborhoods.