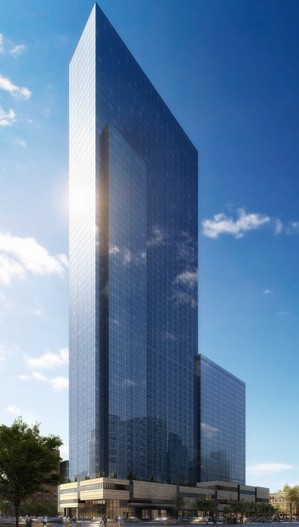 Manhattan real estate is the land of acronyms and abbreviations, and from Soho apartment listings to FiDi rentals to apartments on the LES, it's one that New Yorkers speak every day without even noticing it. So, in a certain sense, MiMA -- a hybrid new luxury rental and condominium building from The Related Companies whose name is short for Middle of Manhattan -- fits right in. In just about every other way, though, MiMA stands out -- for its location on 42nd Street and 10th Avenue, at the heart of booming Clinton; for its stellar suite of amenities; for its luxurious (and not-at-all cheap) apartments for rent. MiMA is as ambitious and extravagantly amenitized a new construction luxury rental development as Manhattan has seen since... well, since Midtown West neighbor The Ashley, probably. But MiMA is also further proof that Manhattan's high-end rental market is returning to robust health -- Manhattan rental listings don't come much more luxurious than this.
The Related Companies are responsible for some of Manhattan's most popular luxury rental listings, and seem to know that they've hit the bulls-eye with MiMA. Why else would they have invited the usually snarky real estate blog Curbed to take a private tour of the building? In a photo-rich post that swaps out the usual Curbed-ian skepticism for straightforward woo-hoo cheerleading, Joey Arak walks readers through the new Clinton luxury rental, and evidently likes what he sees. "The Related Companies can go on pretending that MiMA stands for 'Middle of Manhattan,' but to us, the 63-story tower's nickname is an acronym for 'Magical Island of Many Amenities,'" Arak writes. "MiMA is a throwback to pre-Lehman real estate decadence—with prices to match—and that has made the building's debut one of 2011's most anticipated moments." Again, this is Curbed. The sarcastic, skeptical ones. Just felt like that was worth reiterating.
The pictures at Curbed's post do a good job of summing up what makes MiMA a surefire blockbuster rental. (The words on our MiMA building description at Luxury Rentals Manhattan do a decent job explaining it as well, if we may be so bold) Add it all up, and it should go a long way towards explaining those prices -- which do indeed place two-bedroom apartments for rent at MiMA among the highest of the high-end NYC rental listings at Luxury Rentals Manhattan. Given all the extras at MiMA -- from the on-site Equinox and Dog City (and off-Broadway theaters designed by 8 Spruce Street star-architect Frank Gehry) to the 44,000 square feet of other amenities -- it's easy enough to understand why and how MiMA can get away with its comparatively expensive rental listings, and why NYC real estate watchers have been eying MiMA for some time now. Luxury apartments this unique, this elegant and this well-amenitized are rare -- and valuable. MiMA is new to the market, but it might not be too early to tab this Clinton luxury rental as one of 2011's hottest new Manhattan rental listings. Curbed certainly seems to think so.