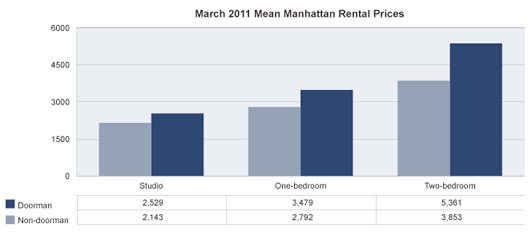 Every month, the statistics on Manhattan luxury rentals tell the same story. Which means that just about every post we do on that topic reads pretty similar to the one before. At the risk of getting intolerably meta-bloggy, here's a quote from a recent Luxury Rentals Manhattan blog post on February's rental stats. "While increased demand should have led to a serious spike in Manhattan rents, it hasn't... yet. A pair of recent studies show that rents are up a robust 8 percent over 2010 figures, but rents are still essentially flat month-to-month, just as they were last month." You'll notice that "last month" links to another Luxury Rentals Manhattan blog post that says almost exactly the same thing. And so you see how this works, and has worked -- demand has stayed strong for Manhattan rentals, and is growing stronger as the traditional NYC real estate boomtime of spring approaches, but prices have barely budged month-over-month. That was the story in March, and it may yet be the story in April. It's the waiting for it to change part that has people nervous.
First things first, though. "The average rent increased by just .45 percent month-over-month, but showed strong gains over March 2010, with rent up 7.84 percent from a year ago," the Real Deal writes of TREGNY's survey of March's NYC rental apartment stats. "The priciest average rent was for two-bedroom doorman units in Soho, which asked $8,173 a month, while the least expensive was for Harlem non-doorman studios, which fetched an average of $1,593 a month." Almost right down to the most- and least-expensive Manhattan rental listings, this is the same information we saw from TREGNY's last report -- Harlem apartment listings and Soho rental listings were the least- and most-expensive in February as well. The only notable change from one month to the next is that Manhattan studios have seen a sudden (if modest) 2.35 percent spike in rents. Beyond that, though, the Manhattan rental market appears calm. Almost too calm.
Too calm because, the Manhattan rental marketplace being the Manhattan rental marketplace, prices will go up. They always do, they always have, and they certainly will -- and when they do, it will be by notably more than a hair under a half-a-percent. While that was supposed to be happening now, it still seems a safe bet that it will happen eventually, and probably soon. For those browsing Manhattan rental listings, this creates a serious but not-unappealing anxiety: with a bump in the road surely looming up there somewhere, the temptation is to pounce now and lock in rents lower than the ones that are out there somewhere.
Perhaps temptation is the wrong word -- making a move on a Manhattan rental apartment now would seem wise, because landlords are fussing and rents are still, for the time being, flat."TREGNY's advice?" Curbed's Sara Polsky writes. "Go back to two-bedroom apartment listings on the Upper East Side, Upper West Side, and Lower East Side, and rent before optimistic landlords up their prices for the summer. Hey, we're still waiting for spring." This month, as in the ones that came before, the waiting is the hardest part. The Manhattan apartment browsing, on the other hand, is unseasonably mild.