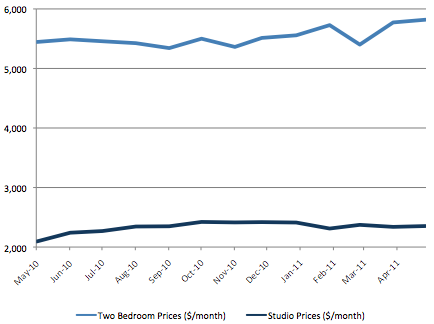 Here at Luxury Rentals Manhattan we've kept an eagle-eye on the recently-calm state of the luxury rental market for you, although we'll admit that at times it was like watching paint dry. Month after month, and well into the anticipated warm-weather boom period, Manhattan rental stats remained boldly, brazenly blah -- up a healthy percentage over last year's counterparts, but inching up only a fraction of a percent month to month. Sure, we warned that a bump in Manhattan rental prices was coming -- we're a blog about Manhattan real estate, and as such know what's coming. But after months of the same warnings, a sort of a chicken little vibe became almost inescapable. As we've previously noted, rents barely rose month-to-month this year as landlords have remained prudent, hedging their bets on a a strong spring eliminating the last vestiges of ennui from the market. And now, as June dawns in a flurry of sticky 90 degree days, it seems like spring has finally sprung in the Manhattan luxury rental marketplace.
The weather is humid, the flowers are blooming, and the Manhattan rental market is hale and hearty once more. May's statistics are in and, again, are rich in mixed messages. Month-over-month prices are up a modest but palpable .68%, while vacancies in apartments with doormen fell 1.89%, leaving overall vacancies at 2.93%. What does that mean for those scouring Manhattan luxury rental listings this month? Same thng as last month, actually: rents are lower than expected for the time being, but rising demand for apartments in the summertime likely means higher prices from landlords now confident in the rental market's security. Those searching for apartments can expect to pay fees and win fewer concessions from landlords. And the change is already in progress.
Still, renters shouldn't fret just yet -- there are still deals to be found for the savvy bargain-hunter. While rents are up on apartments in Midtown, Gramercy Park and Battery Park City, rents have actually gone down for rental listings in Murray Hill, Greenwich Village, and Tribeca, making them excellent neighborhoods to start an apartment search. Renters might also consider studios and one-bedroom rental apartments rather than two-bedroom rental listings. Pricing trends for studios and one-bedrooms have remained relatively steady across the board, with notable deals in some areas. Rent for one-bedroom apartments fell 9.91% in the Financial District, making the already value-rich FiDi an appealing neighborhood for those seekinga thrifty downtown address. Studio prices in Murray Hill are also down to less than $2,000. Two-bedroom apartments in the same location price closer to $4K. With such a huge difference in rent, some renters might consider reevaluating their roommate situations in favor of embarking on a solo housing adventure. In this suddenly semi-robust NYC summer rental market, having a Year of Magical Living (Alone) might be a wise decision. You could always meet your old roommates for a summer gelato when the heat dies down.