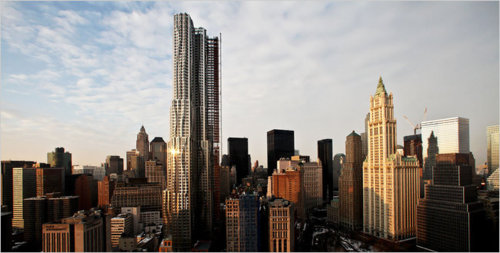 Bragging rights for building the tallest building in the world have been passed back and forth several times. The most recent country to own these bragging rights is Dubai with the Burj Khalifa rising 2,700-feet into the sky and it is likely they'll have these rights for a long time; they've been passed over from New York to Chicago to Malaysia and then Taiwan. Everyone has their eye on the prize of being able to say that they had a hand in creating the world's tallest building.
In Manhattan, it may be a while until we can take back the title of the city that owns the world's tallest building, but builders in New York City have developed a friendly competition amongst each other, a competition to build Manhattan's tallest residential building. Frank Gehry's 8 Spruce Street, a luxury rental condominium currently holds the title of tallest residential building in Manhattan, soaring 870-feet into the Manhattan skyline. This year, 8 Spruce Street outgrew Donald Trump's Trump World Tower as Manhattan's tallest residential building, but it may not be holding the title for much longer.
Three developments are in the works that could surpass Gehry's 870-foot tall building by a huge number of inches reported the Wall Street Journal. Extell Development Co. is working on building a 90-story condominium already about a quarter of the way there with 22 floors built. This project will be a mixed hotel-condominium combination near Carnegie Hall and is planned to rise 1,004 feet tall. Close by on Park Avenue, a group of Los Angeles real-estate investors and a developer are looking to conquer the title with plans that have yet to be revealed, but are rumored to grow into a building that is over 1,000-feet tall. A Houston developer who is hoping to restart building at a stalled MoMA tower on West 53rd Street is giving another go at the title; this building could grow up to 1,050 feet.
With this competition amongst city developers come some challenges with the Manhattan real-estate market. All three of these buildings will sprout in Manhattan around the same time which raises questions of whether or not there will be enough of a demand for all of the apartments that come with their opening. Those looking to rent luxury apartments with great views should keep an eye out on this competition over the next couple of years.