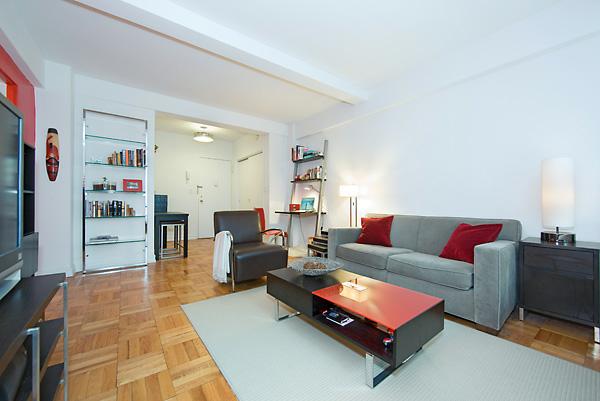 The MNS rental market report for the month of January is out, and much like in December, it shows a market that has conformed to expectations and dipped, but that is still much stronger than it was a year ago. Generally, the cold winter months keep market activity to a minimum, but average rent for all luxury Manhattan rentals dropped only 0.4% from December to January. Prices in December were down 1% from where they were in November, suggesting that, while the market has sagged a bit, it is by no means as low as it was last year, or as low as industry professionals were expecting. In fact, rent rates are up an average 7.2% from where they were in January 2011. If you're looking for another sign that the Manhattan rental market has improved substantially, here it is.
Tribeca and Soho continued their reign as the priciest neighborhoods in Manhattan for luxury apartments for rent, and apartments in Harlem similarly are still the cheapest. In non-doorman buildings, Harlem studios dropped 6.7% from last month, down to an average price of $1,398 a month. In one- and two-bedrooms, rent went for $1,793 and $2,218 a month, respectively. Compare this to a two-bedroom apartment in Tribeca—the most expensive neighborhood in Manhattan for non-doorman buildings—where rent is $7,923 a month. In doorman buildings, Soho edges out Tribeca for one-bedroom apartments as well as two-bedroom apartments. A soho one-bedroom goes for an average of $4,750 a month, while a two-bedroom in the same neighborhood goes for $8,395. Tribeca doorman studios are $3,200 a month, the most expensive of their kind in Manhattan.
Furthermore, the city saw the biggest drops in Harlem, Battery Park City, Chelsea, Gramercy, and the East Village. Non-doorman studios in Harlem dropped 6.7%, but doorman studios dropped by even more: a dwarfing 9.4%. One-bedrooms in Gramercy Park in non-doorman buildings fell by 2.9%, and two-bedrooms in the East Village in non-doorman buildings fell by 3.7%. For doorman buildings, one-bedrooms in Battery Park City fell by 2.4%, and two-bedrooms in Chelsea fell 1.9%.
A coinciding report by Citi Habitats was also released recently. This report shows Manhattan neighborhoods by vacancy rates. Average vacancy in New York is a staggeringly low 1.3%, yet a few neighborhoods have put up higher numbers. Apartments in the Financial District are showing a vacancy rate of 1.42%, while in the East Village it is 1.48%, and in the Upper West Side, which has seen an abundance of movement in the past few months, vacancy is at a relatively promising 1.61%.
In addition to being a traditionally slow month, January is unique in one other way: typically it is the month when leases end, and renters have to contend with price changes put forth by their landlords. The drops we saw last month spell good news for renters about to bargain with their landlords, but there is a caveat that MNS points out: Murray Hill and the Lower East Side, two neighborhood which are popular with first time renters, showed increases from their December figures in nearly every category. In Murray Hill, both doorman and non-doorman studios showed increases, as did non-doorman one bedrooms. Doorman one-bedrooms dropped slightly, as did doorman and non-doorman two-bedrooms. In the Lower East Side, non-doorman one-bedroom apartments dropped, as did doorman two-bedrooms, but in every category there were substantial increases. For young and first-time renters, we recommend an apartment in Chelsea, where doorman studios increased, but non-doorman studios fell, not just from their December numbers, but from their January 2011 numbers as well. Chelsea may be a pretty good bet for first-timers, but vacancy is 1.34%, so you better get moving.