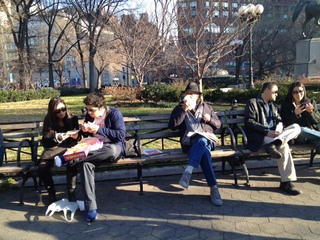 February is traditionally the slowest month of the year in Manhattan real estate, a month known for giving renters a chance to find deals. In Februaries past, landlords offered more concessions in order to stimulate demand. This year, the opposite happened. Even given the context of low inventory, few new apartments coming on the market, and high demand, February still exceeded expectations for apartments in every Manhattan neighborhood. Landlords cut back on concessions and raised rents, and the high temperatures brought out far more renters than expected; the high volume of activity far surpassed traditional winter levels. If this is any indication, rents for apartments in Manhattan will keep rising in the spring, the busiest season of the year.
Two separate brokerage reports detailed just how abnormal February was in 2012. According to a market report by Citi Habitats, the average rent in Manhattan stayed at January's level of $3,223 a month, which is 5% higher than it was in February 2011. In these circumstances, the brokerage reported that landlords are cutting back on concessions like one month's free rent and paying the broker fee. They reported that 13% of landlords offered concessions in February as compared to 18% last year.
Meanwhile, a market report from MNS documented that rents rose across the board in the long-term, even in non-doorman buildings. When compared to February of last year, the report found that non-doorman studio apartments rose 4.8% to $2,193 a month, non-doorman one-bedroom apartments rose 4.8% to $2,920 a month, and non-doorman two-bedrooms rose a whopping 10.5% to $4,212 a month. The report painted a similar situation for doorman buildings over that same time: studios rose 6.8% to $2,639 a month; one-bedrooms rose 3.7% to $3,692 a month; and two-bedroom apartments rose 6.8% to $5,782 a month.
With people out looking in record numbers and vacancies at record lows, we expect the market to exceed the Manhattan rental market's peak in 2007. Right now, it's only $18 off the peak for average rents in Manhattan, and with spring looming, all signs point to a record-breaking season. So if you're a tenant looking to rent an apartment in Manhattan, brace yourself. Rents in Manhattan aren't coming down anytime soon.