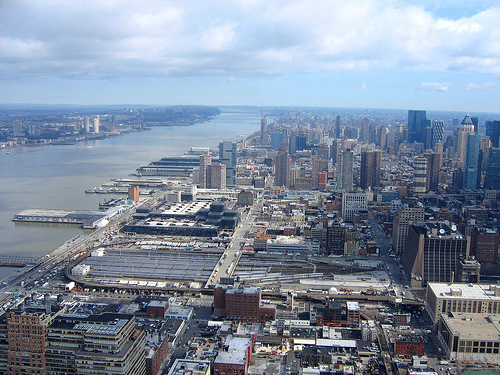 Everyone knows that big changes are on the way for Hudson Yards. The old manufacturing area will be transformed in the next decade or two into an entirely new neighborhood, one replete with luxury apartment buildings, an ultra-modern office complex of angular high-rises, a new park, a new museum, a subway line, and even a new boulevard that will bisect the area. But if you were to look at the Hudson Yards site right now, it still looks much like it did ten or twenty years ago. Appearances can be deceiving though, because new development for luxury rental apartment buildings has thrived in the area over the past half-dozen years, and many newly constructed luxury rentals are already available. Considering that the Hudson Yards area has succeed in sustaining new construction at a time when such success is rare, this area is well-positioned to emerge as Manhattan's next hot rental neighborhood.
When the city rezoned the area between 28th Street and 43rd Street west of Eighth Avenue by changing it from manufacturing to residential and commercial in 2005, they opened the floodgates for new construction. Developers invested $5 billion in private capital and built over 5,000 Manhattan apartments since that time, making the neighborhood a veritable boomtown where development has continued unabated despite the financial collapse and subsequent recession. So even though the city's major construction projects are either unfinished or still in the planning stages, private developers haven't hesitated to build a number of high-end buildings with luxury apartments for rent. Right now, Manhattan renters can find reasonable rents in this area, one of the few Manhattan neighborhoods south of 42nd Street that has a glut of new apartment buildings whose rents haven't skyrocketed.
What's more is that the pace of new construction is starting to pick up because of the announcement that the 7 Train extension will be completed on schedule in December of this year. Coach Inc.'s decision to anchor the first office tower also bolstered confidence and sped up activity, and the official confirmation of the construction High Line Park's third section certainly didn't hurt either. Robert A. Knakal, the chairman of the brokerage firm Massey Knakal, told the New York Times that, "This is the most active period we have seen since the Hudson Rail Yards project was announced." Massey Knakal represented the seller of 360 10th Avenue last year, a vacant lot adjacent to the High Line's third section that can potential be developed into 400,000 square feet of commercial space and 200,000 square feet of residential space. The lot sold to Sherwood Equities for $43.5 million after a mere 10 days on the market.
With newly constructed rental buildings such as a 200-unit rental on 509 West 38th Street built by Iliad Development, this section of Midtown West may soon offer renters a chance to live in downtown Manhattan without paying downtown Manhattan prices. Eric Birnbaum, a principle at Iliad, is confident in their investment for that exact reason, telling the Times that, "This neighborhood is a great bet because what will ultimately happen, and what we are already seeing to some extent, is that people getting priced out of Chelsea and the High Line area will move further north, directly towards us."