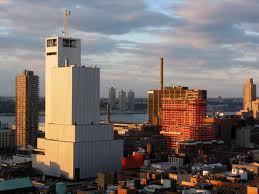 Need a condominium, but can't get a mortgage? Well, there's good news for people in that fix with some
New York City property
developers are converting residential developments planned as condominiums into high-end,
rental apartment buildings
instead. Such conversions have been seen in a variety of locations around the city. With people buying less and renting more, there is an unprecedented demand for larger apartments, which has also been proved to be extremely lucrative in the real estate scene.
Examples of such conversions include One Mima Tower on the
Far West Side
, Mercedes House in
Midtown Manhattan
, 75 Clinton in Brooklyn Heights and Jardin in Williamsburg, to name a few.
The New York Times report
ed
that for property developers, making such a switch before the project is built is less of a risk than deciding to convert after the building has gone up. Although such conversions were last seen during the financial crisis, the reasons for this trend to rise again now are more to do with the "white hot" nature of the rental market.

Property developers say that condominiums serve well as rentals for families who either can't obtain a mortgage, or are not satisfied with the condo listings available, but still need larger apartments. Besides the larger spaces they offer, condominiums, with their luxury amenities and high-end fixtures, become particularly attractive as rentals. With property developers also keen to nurture a sense of community among the renters of such condominiums, this trend could bode well for people looking for larger living spaces with environments that they, as a developer put it, "wouldn't want to leave."