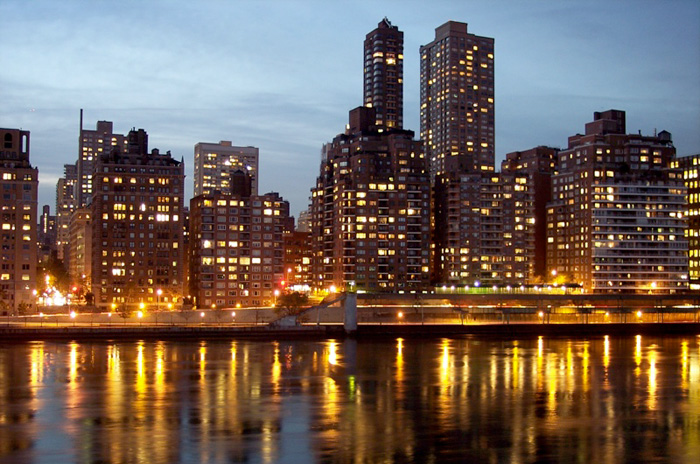 In New York, buildings located near the water are coveted real estate, and New Yorkers have proved willing to shell out big bucks to wake up to awesome views of the Hudson or the East Rivers. But the numerous problems such waterfront developments had to deal with thanks to last week's Hurricane Sandy have raised questions about these popular buildings along the water, which include impressive addresses like 200 Water Street and New York by Gehry at 8 Spruce Street. However, both experts in the field and city officials are saying not to worry—these locations have not lost their sheen in the real estate market.
The damage to the city's buildings along the water's edge has been severe—many buildings are still pumping out the water accumulated in their basements. The flooding has also destroyed much of their mechanical and electrical systems, with their restoration expected to take weeks, or even months. The New York Times reports that since the full extent of the damage to these buildings is unclear, building occupants too don't have a set timeline for a return to their homes either.
However, despite these issues, real estate experts and city officials are still quite confident about the prospects of waterfront developments in the future. Mayor Mike Bloomberg, for instance, said in a press conference that the allure of living near the water outweighs the risks that are involved in the same. After all, if one had to choose between living at an apartment with a view of the East River and one with a view of a brick wall—chances are that one would most definitely pick the former.
But city officials are not going to ignore the lessons they learnt from the destruction caused by Hurricane Sandy either. While these kinds of storms may be difficult to predict, infrastructure can be built to prepare for such occasions. Manhattan's rental buildings under construction can take pointers from the Edge, a residential building in Williamsburg that fared well in the storm thanks to its design ideas, one of which was to keep generators on the eighth floor instead of the basement.
So, while waterfront buildings in the city may have taken a beating with Hurricane Sandy, the general sentiment about these luxury buildings still seems to be positive, with New Yorkers wanting preventive measures to be taken rather than the city scrapping such projects altogether. After all, New York City has always been the leader of the pack in terms of smartly constructed buildings, and Sandy's lessons can be expected to be incorporated in the design of future waterfront residences.