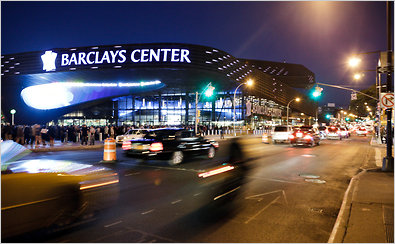 The Atlantic Yards project in Brooklyn was one of the most contentious real estate developments seen in New York City in recent times, with critics lashing out at the 22-acre project that would see commercial office space, residential housing and a swanky sports arena arrive in Downtown Brooklyn. Of the three components of the Forest City Ratner project, the Barclays Center arena opened up a few months ago, and now, the next in line seems to be the housing units, with the first Atlantic Yards apartment building scheduled to be open by summer 2014.
The new apartment building, called B2, will be 32 stories tall, and it has 17 of its homes already reserved for a select few. These are the people who had been renting homes in the Atlantic Yards development site seven years ago, and had then moved out of the area after striking a deal with Forest City Ratner. Under the terms of the agreement, Forest City Ratner would move the displaced renters to new homes and also pay their rents until the completion of the construction of the B2 building. Once B2 was completed, the displaced tenants would get homes in the new building as well.
The New York Daily News reports that the 17 tenants who accepted the deal will be getting apartments that have been marked for affordable housing at the new building, with rents starting at the same amount it is currently set. The displaced tenants interviewed in the article seem to be looking forward to getting back to their neighborhood, with one family saying that they took the relocation deal because they "wanted to stay in the neighborhood, and this seemed like a plan that was sustainable."
Even as B2 reaches its completion, construction will soon be starting on the next residential building in the Atlantic Yards project, which when completed will be the tallest apartment complex in Brooklyn. The new building, which will have a modular structure, is slated to rise up on Flatbush Avenue and Dean Street, with the development scheduled to start next month. With Downtown Brooklyn transforming at such a rapid pace, it will be interesting to see how the displaced renters fare on returning to a neighborhood that is going to look a lot different from how they knew it to be.