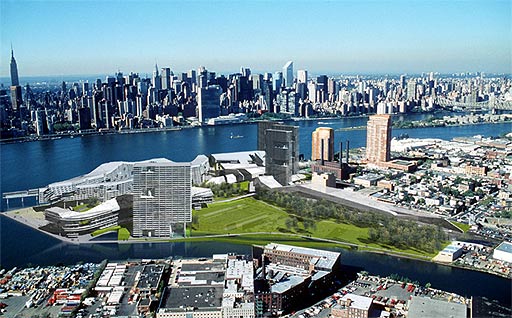 Although it is one of New York City's "newer" residential neighborhoods, the real estate scene in Long Island City has been on an upswing for quite some time now. The neighborhood's luxury housing market in particular has been doing extremely well, with many New Yorkers dismayed by the high rents of apartments in Manhattan looking to Long Island City for more affordable alternatives. However, this increased demand has led to hikes in the rents here as well, with a recent market report saying that Long Island City rentals have seen a $50 monthly rise from their values last year.
But the current rents are still significantly lower than those seen in Manhattan, and home hunters still see Long Island City as a great location for a new home. After all, the homes here are just as desirable and opulent as luxury apartments in Manhattan, with residents of the waterfront residences here having the added advantage of some stunning vistas of the city skyline. Another advantage of living in Long Island City is the neighborhood's proximity to Manhattan, with residents here finding the 7 subway train to be a very dependable and efficient means of transport for their daily commutes.
Long Island City has also its vibrant community to boast about, with the neighborhood today a far cry from the industrial society it once used to be. The neighborhood is a thriving one, with a variety of businesses calling the place home today. From beer bars to art galleries, comedy clubs to fine restaurants, residents of Long Island City are assured of a fun night out every time they step out into the neighborhood. Families too have it good here, with the neighborhood's low crime rates, lovely parks and good schools adding to its luster. With the region expected to only grow in the coming months, one can safely expect Long Island City residences to continue to be in demand.