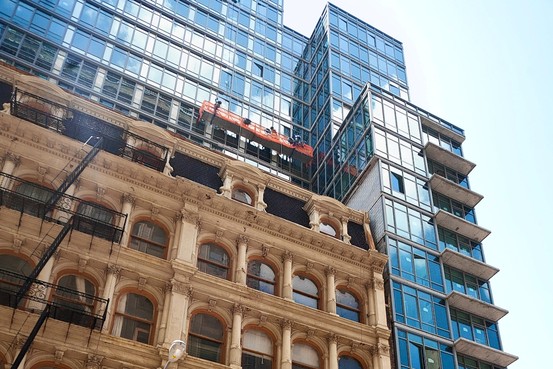 A recent article in The New York Times talked about how New Yorkers dealing with critical situations in their lives have turned to a new kind of therapy to help them deal with it: relocation therapy. As it turns out, moving into a new home has had positive effects on people facing all kinds of tough scenarios. You could be wanting to get away from a messy divorce, or maybe you could be wanting a simple change of place—regardless of the reason, a new address could be just what you need to start your life anew. So if you think you need some relocation therapy in your life, here are five of our top picks on where to get a fabulous new home:
1. Reade57: If you have made a resolution to go out more in the new year, you need to be located at a place where there's a lot of action happening all the time! For such purposes, a home at Reade57 is your best bet—this trendy new building is located near a bunch of great Manhattan neighborhoods. Tribeca, Soho, Little Italy, Greenwich Village, Financial District; take your pick—rent a home at Reade57, and all the best of what these Downtown Manhattan neighborhoods have to offer will be located right outside your door.
2. 55 Thompson Street: Are you one of those people who want to be at the center of it all, but, at the same time, you'd like your own space of tranquility in the city? If so, then the fantastic residences at 55 Thompson Street could be right up your alley. This Soho building is close to all of the shops, restaurants and bars that make this neighborhood so vibrant, and the residents here will be enjoying elegant lifestyles in serene, well-designed spaces, containing all modern comforts and conveniences.
3. The Ashley: Even if you overlook the Ashley's excellent location on the Upper West Side, and dismiss its stunning residences that look out to the Hudson River, there's no way you can take your attention from the whopping 40,000 square feet of amenities that the Ashley offers its residents. This amazing building has the largest private amenity space in all of Manhattan, containing everything from a spa to an indoor pool to a private courtyard to a bowling alley and much, much more. This is relocation therapy at its very best.
4. Crystal Green: Sometimes, all one needs to feel a little better in life is to get some freebies. That's the feeling you can expect to get if you choose to rent a home at Crystal Green now—this beautiful new building is offering some great concessions right now, and home hunters in the city would be wise to take advantage of this opportunity to get a new Midtown home! Besides its great location, this building is also LEED-certified, thereby allowing you to enjoy luxury living that is both efficient and environment-friendly.
5. 27 on 27th: If you have been living in Manhattan for a long while and feel like a change of scene now, then head over to Long Island City and check out the homes available for rent at 27th on 27th. Besides being able to see Manhattan in a whole new light (the views of the skyline from here are marvelous), you will be living in sleek, new apartments with lots of space, and you'll also be treated to a good number of luxury amenities. Add to that the building's proximity to Manhattan and the up-and-coming neighborhood it is in, and you can see why 27 on 27th makes for a great new home in the city.