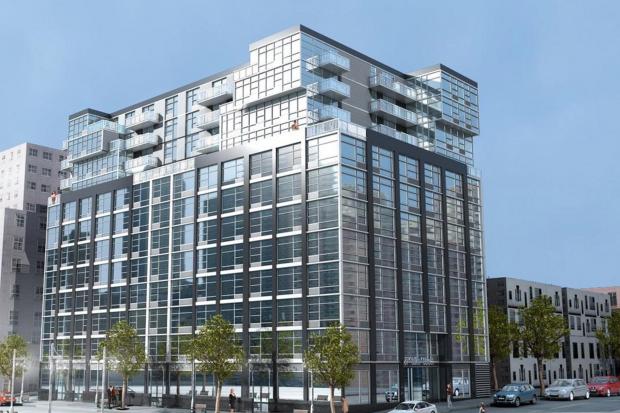 Heads up, Park Slope: there's a new luxury rental building headed your way this August! This shiny new building, which is being called Landmark Park Slope, is located at 267 Sixth Street and will be offering studio, one-bedroom and two-bedroom apartments for rent. Given the number of New Yorkers who are interested in finding a home in Brooklyn, one can expect the 104 units that are being offered at this 12-story building to be lapped up as soon as they come into the market.
Designed by Karl Fischer, Landmark Park Slope has a very impressive exterior, and its interiors are creating a lot of buzz as well. The apartments here boast of spacious floor plans and floor-to-ceiling windows, and residents will get to enjoy 360-degree views of the Manhattan skyline and the New York Harbor. According to a report in DNAInfo, the apartments at Landmark Park Slope will be asking for rents that range from $2,100 to $3,700 per month.
The developers of the project, the Naftali Group, are also drawing attention to the hotel-style amenities that Landmark Park Slope will offer its residents. Some of the noteworthy amenities include a roof deck, a fitness center, parking spaces and concierge service that will be provided free of charge for the first year by the firm Abigail Michaels. Adding to all of these great features is the building's great location, close to places like Prospect Park, Barclay's Center, etc.
There's a sneak preview being planned for Landmark Park Slope very soon, and so if you want to be one of the first ones to take a look at this striking new building, get in touch with us and we'll register a spot for you at this exclusive event. Given its excellent location and wonderful features, Landmark Park Slope is sure to get a lot of attention among apartment hunters in the city, and so, the sooner you express your interest, the better your chances of getting a home here.