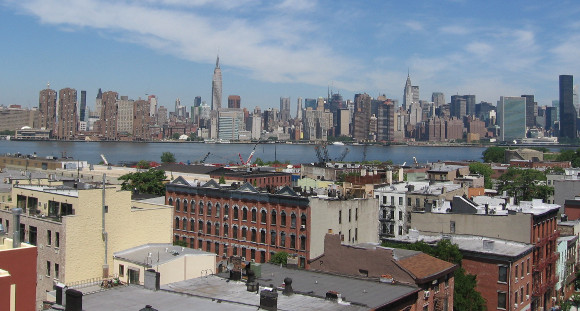 South of Greenpoint, there's Williamsburg—the trendy neighborhood with acres of new waterfront development. North of Greenpoint, there's Long Island City—a neighborhood much like Williamsburg, with a new attitude and waterfront development. Then there's Greenpoint—a neighborhood that recently was polled as the "roughest looking" neighborhood in New York City, which developers are, of course, eyeing for waterfront development.
Greenpoint residents, however, aren't handling it well. They intend to sue the developers, as well as the City, in order to halt the waterfront development at 77 Commercial Street and the massive Greenpoint Landing.
Of the 12 buildings that Greenpoint residents, along with City Council candidate Stephen Pierson, are attempting to stop, 10 are included in the Greenpoint Landing project. The buildings, which will primarily be rentals, range in size from 30- to 40-stories, and will bring some 5,500 new apartments and 10,000 new residents to Brooklyn's northernmost waterfront neighborhood.
The lawsuit, however, will not be arguing against the population spike. According to Brownstoner, the argument will claim that the City greenlit a project with an inaccurate environmental impact study that was eight years old and outdated.
Some doubt that the true concerns of the Greenpoint residents are environment related and instead are more about socio-economic concerns and a simple dislike of change. Worry over G train traffic has also been expressed.
Not all residents are opposed. Many argue that adding some 5,500 apartments increases the supply for the already sky-high housing demand, which in turn will lower rents across the City. Certain arguments even state that the G train can actually handle an increase in riders.
Even if the lawsuit is unsuccessful, it will likely delay development of the projects throughout Mayor Bloomberg's term. If this is the case, there's potential that a less real estate friendly administration will come along and either demand a redesign, or discontinue the project altogether by reversing the 2005 rezoning.