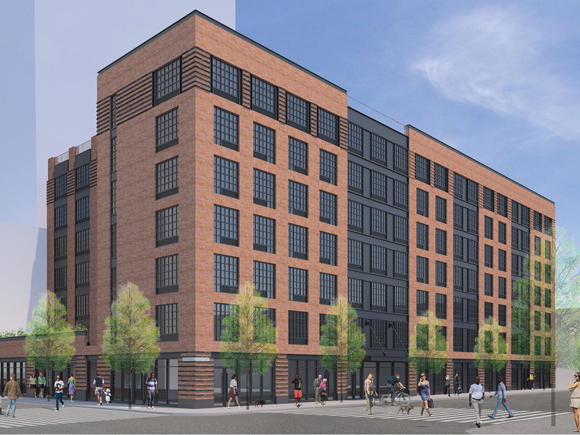 On Wednesday November 6th, the City Planning Commission approved two residential construction projects along the Greenpoint waterfront in Brooklyn. The unanimous decision was made in spite of some voiced community indignation.
With the approval of the commission, the 720-unit project at 77 Commercial Street, as well as a smaller, roughly 700-unit apartment building for the eventual 5,500-unit Greenpoint Landing project, await the final judgement of City Council, which has 50 days to make a decision.
Greenpoint Landing, the larger of the two projects, is being developed by Park Tower Group. Their plans call for some 5,500 apartments spread across 10 buildings, with 1,300 of the units slated for affordable rentals. The final product will also retail space, as well as 4 acres of green space. While the final product of Greenpoint Landing will be massive, the first phase will be for a smaller, 7-story building.
The other project that received approval, 77 Commercial Street, is being developed by the Chetrit Group. The two buildings will house 720 apartments, 200 of which will be affordable rentals. 77 Commercial Street will also include a roughly 25,000 square feet of retail space, a parking garage and community space. Both 77 Commercial Street and Greenpoint Landing will feature waterfront access to the public.
Though it appears likely that City Council will approve the apartment buildings, members of the Greenpoint community have voiced various concerns, ranging from environmental impact, to negative consequences on already imperfect public transportation options, to appropriation of affordable housing.
Waterfront development has been highly successful in recent years. Long Island City has and continues to undergo a massive overhaul, with several luxury rental apartment buildings rising over the East River. Similarly, Williamsburg continues to see the expansion of its shoreline. Though Greenpoint has thus far avoided major construction projects, the up-and-coming neighborhood is unlikely to hold out much longer.