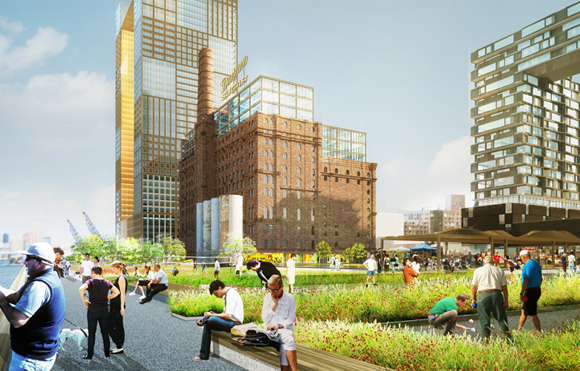 Rendering Courtesy SHoP Architects
When the Domino Sugar Refinery along the Williamsburg waterfront closed its doors for good in 2004, the community grumbled collectively over the plans to redevelop the waterfront with unattractive, soulless buildings. But when Two Trees bought the property in 2012 for $185 million, they completely altered the design, added more park space, added office space for tech companies, and promised to provide 660 affordable apartments. For the most part, the community has been pleased with the plan.
But there's a new administration in town, and they're not satisfied.
Mayor Bill de Blasio has been staunchly vocal in his objective to bring more affordable housing to New York City. Earlier this week, his administration insisted that 50,000 square feet be set aside for affordable units in addition to the current plan, according to a report by the New York Times. In exchange, the City will alter the zoning so that four of the towers can rise taller than initially allowed (between 40 and 50 stories).
The owner of Two Trees, David Walentas, isn't agreeing to the new terms. He argues that dedicating more space to affordable apartments takes away from the market-rate apartments that allow for the park, school and other affordable units to be financially possible.
The City doesn't actually want more affordable apartments, however, but rather more two- and three-bedrooms instead of one-bedrooms. Walentas argues that two- and three-bedrooms apartments already make up 30 percent of the planned affordable units.
On Wednesday, the City Planning Commission will vote on the project. The two parties will have to come to an agreement by then.
Walentas has threatened to revert to the original plans, which only call for 440 affordable units. This is the first major real estate test for de Blasio. If the mayor's administration backs off from their demands, that sets a susceptible precedent for future developers. If they stand strong with these latest demands, de Blasio might be on the hook for losing over 200 units of affordable housing.