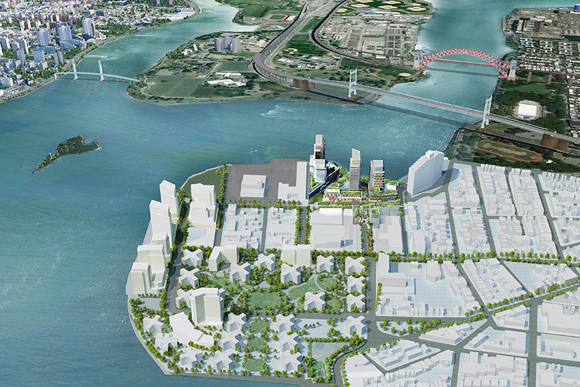 Image Courtesy of STUDIO V Architecture
Waterfront development has been steadily making its way along the shores of Brooklyn and Queens over the last handful of years. The East River waterfront of Brooklyn Heights, Dumbo, Williamsburg, Greenpoint and Long Island City have all seen or are seeing a wave of development wash upon the shorelines, welcoming new buildings, often in the form of luxury condos or rentals. Now, this seemingly unstoppable wave is landing in Astoria in the form of a one-million-square foot mixed-use development called Astoria Cove.
The Department of City Planning has approved the project, and it is currently making its way through the Uniform Land Use Review Procedure. According to the Architect's Newspaper, the three residential buildings that will be created with this project will offer 1,689 apartments for rent. Of those, 259 will be set aside for affordable housing. Astoria Cove will also offer commercial space, a school, and open green space along what is currently an industrial site.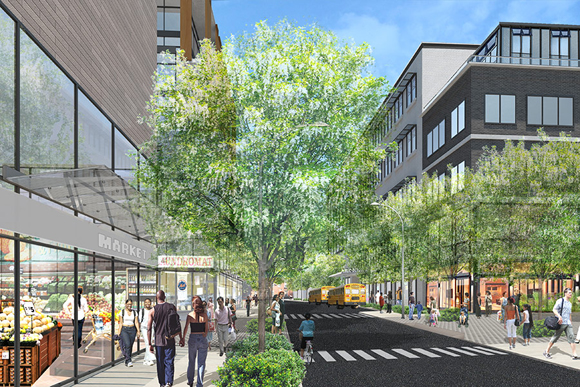 Image Courtesy of STUDIO V Architecture
The property will feature substantial greenery, with landscape architect Ken Smith filling the area with planted walkways, flower beds, trees, and a rain garden. The shorter buildings will also feature green roofs.
Though waterfront development is nothing new in New York, the geography of the development site makes Astoria Cove stand out. The crescent shaped inlet wraps around, enclosing the buildings and green space into a snug, yet open community. From the rocky shore, residents will be able to take in the views of the East River, decorated with Randall's Island and the Triborough Bridge.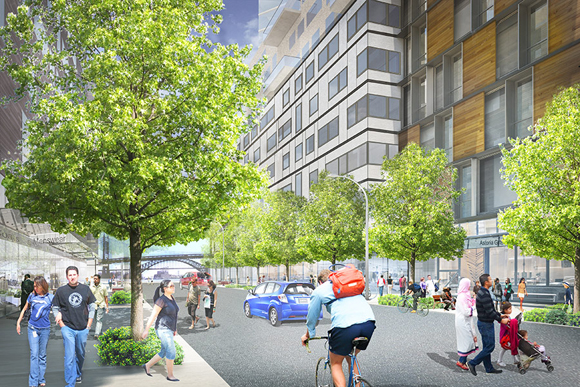 Image Courtesy of STUDIO V Architecture
After the events of Hurricane Sandy in 2012, concerns over flooding have been at the forefront of waterfront development. Astoria Cove is planned to be built above not only the current, but the future flood zone as well.
Astoria Cove is being designed by STUDIO V Architecture, which has already been tapped to renovate the Empire Stores warehouse in Dumbo and the 8.5-acre Hallets Point project. Incidentally, the Hallets Point development site, which will bring some 2,100 market-rate apartments and 500 affordable apartments, is adjacent to Astoria Cove.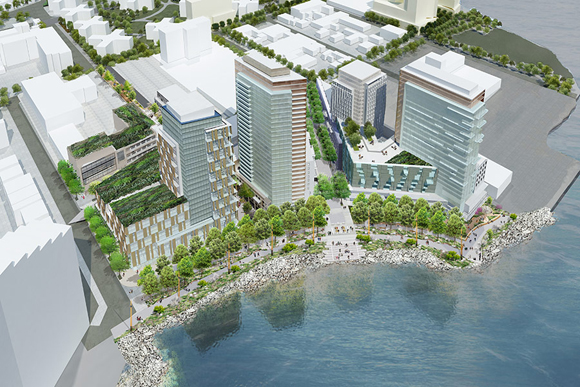 Image Courtesy of STUDIO V Architecture