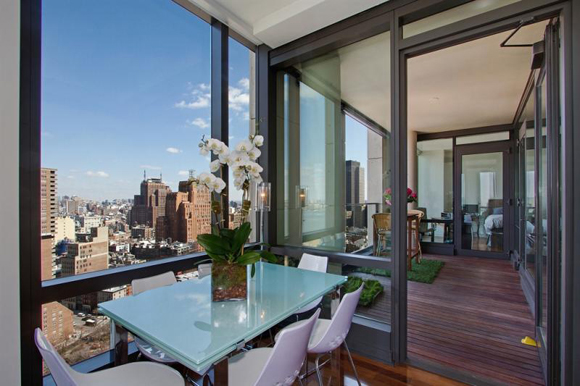 Full of creative celebrities and lined with Manhattan's last remaining cobblestone streets — not to mention a world-renowned film festival — Tribeca's luxury rentals offer plenty of style in one of the city's coolest neighborhoods.
Located at 34 Desbrosses Street, Truffles Tribeca is a luxury rental building with a memorable name and an unforgettable view. Just steps from the Hudson River waterfront, this modern mid-rise features a full suite of beautifully curated amenity spaces. This polished industrial-chic building is staffed by a 24-hour concierge, and features a fully-equipped fitness center with dedicated yoga studio, a residents' lounge and library, media screening room, and a rooftop terrace. It even has one of Manhattan's most coveted amenities: a valet-staffed garage.
Also known as Reade57, this glassy high-rise rental building is comfortably nestled between two of Tribeca's finest Beaux-Arts buildings. Inside, its apartments feature high ceilings and floor-to-ceiling windows, inviting plenty of light while framing unique views of the neighborhood's streets and pre-war architecture. Design cues are decidedly modern, with details like luxurious teak hardwood floors throughout and marble-clad bathrooms.
101 Warren Street enjoys a great location at the intersection of Tribeca, Battery Park City, and the Financial District. It boasts accommodating amenity spaces, including a gym with double-height ceilings and plenty of windows for a comfortably airy feel, as well as a rooftop deck with excellent views of the surrounding cityscape. As an added perk, many of its luxury apartments feature balconies, perfect for taking in relaxing sights.
This handsome post-war building features design elements reminiscent of the neighborhood's glorious pre-war architecture, but with a certain sleek modernity. Its furnished rooftop terrace features beautifully maintained planters, not to mention stunning views of Lower Manhattan's cityscape. It also showcases an excellent suite of amenities, including basketball and volleyball courts.