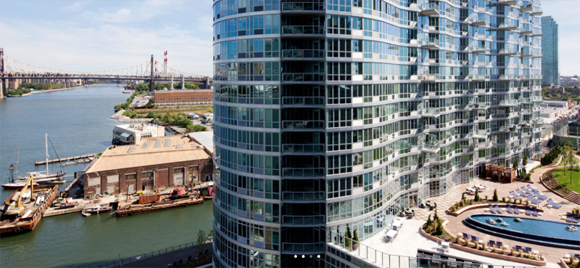 Even though Manhattan and Brooklyn are generally considered the most predominant boroughs in NYC's real estate market, Queens rents saw a notable increase — and in the area around Long Island City, the median rent actually surpassed Brooklyn's.
During the month of August 2015, Queens' northwest area had a median rent of $3,016, compared to Brooklyn's overall median of $3,418. Incredibly, the median rent for a three-bedroom apartment increased by 60.7 percent year-over-year. But Long Island City's rise in popularity comes as no big surprise: the neighborhood is one of NYC's most dynamic — spurred on by a location just one subway stop from Manhattan — with a run of luxury residential buildings reshaping its landscape over the course of just a few years.
Luxury developments such as 45-45 Center Boulevard are setting a high bar for the neighborhood's new standard of luxury. Its rooftop terrace is a recreational deck, complete with a beach volleyball court, dog run, and grass lawn. Of course, its fantastic location along the waterfront also offers captivating views of the East River and the Manhattan skyline.
To be sure, Long Island City is one of the city's fastest growing neighborhoods, and for some time, it seemed as if developers' focus was solely on residential buildings; but soft infrastructure, too, is slowly catching up. Case in point, the Hunters Point Library is slowly making its way towards completion. Located right by Gantry Plaza State Park on the East River, this modern complex designed by Steven Holl features open spaces intended to convey the exchange of information that libraries connote. Residents of 45-40 Center Boulevard are sure to enjoy this fact, since they'll find themselves just steps away from this community-oriented project. Much like residents of the aforementioned 45-45 Center Boulevard, 45-40 Center appreciate their waterfront views.