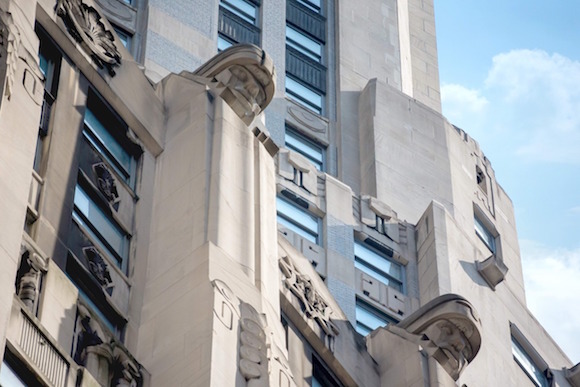 20 Exchange Place's stylized facade with architectural grotesques.
Even though it boasts one of the most distinctive skylines in the world, Manhattan didn't get that way over night. One of its most cherished pre-war architectural styles, Art Deco, is well-represented with distinguished examples such as the Chrysler Building and the Empire State Building. These Financial District luxury rentals offer pre-war flair with plenty of modern conveniences.
Reserving its place in history as a landmarked building, 70 Pine Street was built in 1932 and designed in the Art Deco style by Clinton & Russell and Holton & George. At the time of its completion, the building was the third tallest in the world, falling behind northern Art Deco brethren of the Empire State Building and Chrysler Building. This pride of the Financial District underwent a conversion from commercial space to luxury rentals in 2012, boasting a full host of amenities such as a 24/7 attended lobby, La Palestra Fitness and Wellness Center, Rooftop Restaurant by Ken Friedman & April Bloomfield, artisanal coffee courtesy of Black Fox Coffee, a full-service market, a billiards and game room, golf simulator, rooftop deck, and screening room.
But the highlight of the building can of course be found in its interiors. Offering studios, alcove studios, one-, two-, three-, and four-bedroom apartments, each promises hardwood floors, gourmet kitchens, stainless steel appliances, thermopane operable windows, and a washer/dryer.
Art Deco as a style was once called the 'Modern Classic' and that's a term that defines 20 Exchange Place very well. Also a landmarked building (designated in 1996), this Financial District gem was completed in 1931 as the Wall Street HQ for City Bank Farmers Trust Company, known today as CitiBank. This limestone-clad structure features marble hallways and a lobby detailed with bronze doors, combination that pulls you back into the days of old New York with such preserved historic details.
Partially dedicated to rentals, each apartment at 20 Exchange Place includes custom European cabinets, luxury stainless steel appliances, and custom sinks and vanities but the most prized feature of each space is that stunning New York City views are guaranteed, but for the full experience, residents can make use of the rooftop terrace. Residents can be assured of quality amenities that include hotel service, laundry service, video security, doorman and 24-hour concierge, and valet service.
A 1929 office building, 88 Greenwich was converted to a luxury rental high-rise in 2007. The 38-story Art Deco designed building invites residents in with an astonishing lobby, detailed in chocolate marble, old-growth walnut, and rosewood panel walls. With amenities like a sky deck offering panoramic views of the city, a cafe, billiards room, gym, and courtyard, what's offered in the exterior ties together with what's offered outside the building's front doors in the bustling Financial District.
Offering three different layouts called The Hudson, The Greenwich, and The Exchange, each offers vary wall and flooring details between the bathrooms and kitchens of each layout. However, 10-foot ceilings, large windows, hardwood floors, individual climate control, and high-end appliances are consistent throughout each space. Some apartments include private balconies, offering additional outdoor space to a sky deck that already offers stunning views.