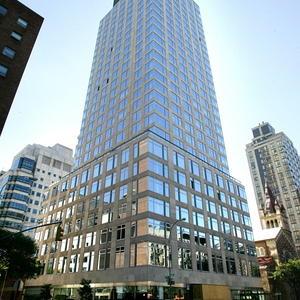 After a number of recent posts here at the Luxury Rentals Manhattan blog can attest, we are of the opinion that autumn and winter are about as good as it gets for Manhattan luxury rentals. Which, being as this is the blog at a site comprised mostly of Manhattan rental listings, probably makes some sense. But while the seasonal rise in concessions makes Manhattan rentals that much more appealing, there's also a broader, contextual reason the Manhattan apartment rental market has performed so well of late -- that reason being that buying Manhattan condos is hugely expensive, hilariously onerous, generally difficult and not becoming notably less so. All of which explains, somewhat, why the market for high-price, high-end Manhattan luxury rentals is currently booming. And things are currently hottest at the very high end of the market.
While overall rental stats are now and have long been highly variable from month to month, one trend has held steady for some time now: the market for NYC luxury rentals has continued to grow. To take one especially long-armed, high-scoring, well-compensated example, the New York Post recently reported that the Knicks' Amar'e Stoudemire rented a $37,500-a-month, five-bedroom penthouse at 99 Jane Street in the West Village. In general, though, as The Real Deal's Candace Taylor reports, more and more New Yorkers have been choosing high-end Manhattan luxury rentals over buying condos or co-ops. While it's strange to think that New Yorkers with this kind of wealth are affected by the recession, too -- and while we'll believe it when it becomes easier to get a table at Del Posto or Per Se -- the stats do bear this out. For some Manhattan apartment shoppers, shelling out nearly 40 grand a month for rent is preferable to laying down exponentially more as a downpayment on a NYC apartment.

In a downturn that keeps changing shape without ever really letting up, it's evident that people -- even the select few that can afford to shell out for a high-end Manhattan condo -- are wary of buying. It's not just about money, either -- spending a ton on an apartment can seem less than practical if the resident wants to relocate from, say, an Upper East Side apartment to a Chelsea apartment sometime in the future. Although lower-priced Manhattan rental listings are not experiencing quite the same boom as their high-end counterparts, it seems to bear out Taylor's broader point: in a Manhattan real estate market in which no one buys and everyone sells, many have changed their focus from buying to renting.
The market, as markets will do, has responded intriguingly to this influx of new cash at the highest end of the NYC rental scene. For instance, where some NYC dwellers are attracted to the fine amenities package that comes along with their luxury rental, landlords have suddenly become stingy with them -- in some well-amenitized NYC luxury rentals, the full amenities package is only available for the first year of rent. These landlords suffer when tenants do not renew after the first year lease, which makes for an epiphany that may force landlords to re-think the way they handle concessions at all levels of the NYC rental scene.
For now, though, high-end rentals are enjoying their good fortune, with developments such as The Beatrice (above), The Chelsea Landmark and The Archive reaping the rewards. The change in attitude regarding rentals has also led some luxury condo developments to offer high-priced rentals alongside their high-priced condos. The ambitious Financial District development at 34 Leonard Street began its life as a high-end condo, before becoming a luxury rental success story. While rent seems to remain high as ever and amenities-related struggles are surely on the horizon, for now one part of the Manhattan rental market seems especially happy -- the people for whom rent will never seem Too Damn High, at least relative to the cost of buying a Manhattan apartment.