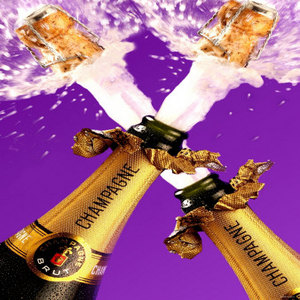 You know it's good news when Luxury Rentals Manhattan breaks out the popchampagne.jpg imagery, and so it is in this case. Of course, rising vacancy rates are not the sort of thing that landlords pop corks over -- the tighter the market for NYC apartment rentals is, the more they're able to get for said NYC apartment rentals. But with October rental stats showing an (expected, seasonal) rise in the New York apartment vacancy rate, things in the Manhattan real estate market seem to have turned in favor of renters, after months of running the other way. Again, this sort of thing pretty much always happens in autumn, which is why it's the most wonderful time of the year for Manhattan apartment hunters. But that doesn't mean renters shouldn't be celebrating this particular bit of seasonal good luck. While CitiHabitats' report on the October rental market indicated that rents fell one percent from September's averages, the real news here is the rising vacancy rate -- and how it could wind up making concessions on NYC apartments a lot less rare. Thus the popping corks. Read on for the nitty gritty.
As we noted last month, it's not impossible to find concessions at some new construction rentals, including hot listings such as The Ohm, The Beatrice and 808 Columbus Avenue. But what made the renter's market so great for those searching for Manhattan apartments was that seemingly all NYC rental listings were dangling concessions -- anything from free months' of rent to free gym memberships to free months' of rent and free gym memberships -- to make their listings more enticing. While some neighborhoods remain nearly vacancy-free -- the CitiHabitats report singles out Tribeca and Soho for their super-low .74% vacancy rates, although you can stil lfind Tribeca rental apartments and Soho rental apartments if you know where to look -- much more of Manhattan is currently for rent than was the case, say, a few months ago. Landlords, whatever NYC dwellers may think of them on a case-by-case basis, are smart enough on balance to realize that even the most elegant luxury rental apartment doesn't make any money if no one's renting it. That's where concessions come from. And as The Real Deal's Yaffi Spodek writes, they are indeed coming.
"'The use of concessions is expected to rise at the end of the year,'" CitiHabitats chief Gary Malin told Spodek. "As winter approaches, sellers traditionally become more negotiable with prices and offer concessions to do deals, Malin said. "The increase in the vacancy rate, Malin said, 'is par for the course -- not something that people didn't expect to see' at this time of year. This winter, Malin predicted, there will be "'price reductions and an increase in concessions.'" Your blogger is not a real estate forecaster, generally, but I'll make an exception here -- you should also expect to see an increase in deployment of the popchampagne.jpg graphic. When the Manhattan real estate market is giving us good news for the first time in a bit, we'd be foolish not to make use of it.