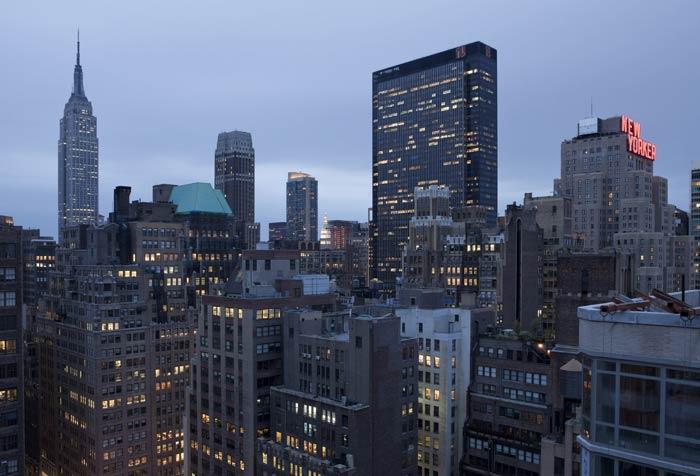 Manhattan's Hell's Kitchen is burning up these days as a host of new construction condo developments have helped the once warehouse-full neighborhood earn its status as one of the most in-demand neighborhoods in Manhattan real estate. Hell's Kitchen is saying goodbye to old patches of cement meant for parking lots and boarded-up buildings that waste space, and those browsing Manhattan rental listings can attest to the fact that the new Hell's Kitchen rentals that have risen from those formerly vacant lots are very appealing indeed.
The Wall Street Journal traces the rise to popularity of this once-underdeveloped -- and poorly named: we, and you, should be calling it Clinton these days -- neighborhood, thanks in large part to a bumper crop of new construction luxury rental developments. And with these new apartment complexes comes a demand for more commercial business to move into the area; Hell's Kitchen's future looks bright not only in terms of new luxury rental housing, but in terms of the commercial development that will follow on behind.
And it's already happening. Hell's Kitchen is home to some of Manhattan's most sought-after new rental listings. Among these are the MiMA at 450 West 42nd Street, which is a luxury rental AND condominium apartment complex opened this year. There's also the Emerald Green, a LEED-certified luxury rental building opened in 2009. The MiMA doesn't only have a central mid-town location; it boasts more than what every luxury apartment complex usually boasts. With fitness centers, a dog spa, landscaped terraces and more, the MiMA helps to give Hell's Kitchen a hot reputation. And giving Hell's Kitchen an even hotter—and greener—reputation, the Emerald Green at 320 West 38th Street is both mega-luxurious and LEED-certified with Energy Star appliances in gourmet kitchens, water filtration systems, a lap-pool, and rooftop sundeck.
As Hell's Kitchen grows hotter and hotter, store owners feel more of a demand for their business in the neighborhood. More residents mean more prospective customers, so why not try out the neighborhood? Word on the street is that new businesses have been pretty successful as of late. Nightlife is expanding with a decent variety of restaurant and bar options; supermarkets and salons are sprouting on street corners.
All seems well in Hell's Kitchen and the Wall Street Journal says plans are to make it even more up-and-coming. The West Side Rail Yard's 26-acres of land is in hopes to become a large business, retail, and housing spot; Related and Oxford Properties Group, the developers, plan to include nine residential buildings and four work sites in the development which could start as early as 2012. The concern among residents is that, with Clinton's reputation climbing, cost-of-living increases will follow. It's a reasonable concern, although Clinton has -- to an impressive degree -- retained some of its scruffier, more-affordable edges during its decade-long rise to prominence in Manhattan real estate. And both for us at Luxury Rentals Manhattan (and those looking for a luxury apartment in Clinton, of course) news that another Manhattan neighborhood is on the rise is good news indeed.