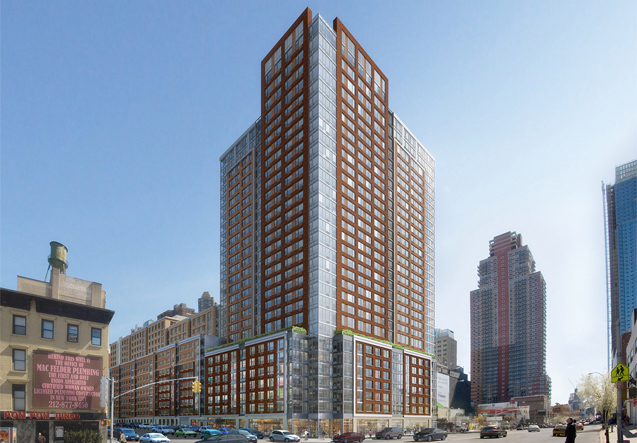 Nothing in recent Manhattan history has spurred development like Hudson Yards in Midtown West is now. Since 2005, the one-time site of Mayor Bloomberg's failed Olympics bid has seen the construction of 15 Manhattan luxury condo buildings and 12 hotels. News about development projects in the area are released every day it seems, and every real estate insider projects that development will skyrocket in the Far West Side over the next several years. Even building projects not directly inside the Hudson Yards boundaries have the area to thank for their existence. Gotham West, a massive construction project that will take up an entire block, is one such building. From 44th to 45th Street and Tenth to Eleventh Avenue, Gotham West is a four-tower rental and condo hybrid that plans to offer 1,263 housing units, 556 of which will be apartments for rent.
First, a bit of back story. Gotham West is offering 682 affordable homes, the most of any building not built by the government. When the Hudson Yards area was rezoned for residential construction, the rezoning agreement came with the stipulation that a large part of the area would be devoted to affordable housing. Developers realized they could build profitable apartment buildingsand get city and state funding, if they focused on affordable-priced units. Hence, the existence of projects like Gotham West, which received most of its funding from tax exempt bonds.
The Gotham Organization, the developing company behind the building, announced the project back in April. Contractors broke ground last summer. Developers plan to open the building complex in 2013.
The 1,263 units will range from 475 square-foot studios to 1,400 square-foot three-bedroom suites. Every apartment will come with standard kitchen and bathroom amenities, but the market-priced apartments will provide wooden strip flooring, while the affordable apartments will be floored in parquet. The building is also zoned to include 15,000 square feet of retail space.
Projects like Gotham West have reshaped all the Manhattan neighborhoods in the middle west over the past couple years. With a project of this magnitude, we suspect wealthy investors will be flocking to the condos and larger apartments, but the abundance of affordable apartments might be manna to New Yorkers who are finding themselves priced out of Manhattan as rent keeps climbing and high-end condos go more towards the wealthiest bidders. For New Yorkers with tighter budgets, Gotham West might be a saving grace.