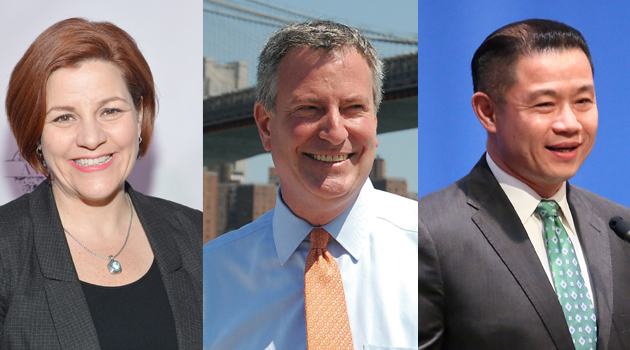 In the long standing battle between landlords and tenants in New York City, the latter group of New Yorkers seem to have now found an unlikely new set of allies—the city's mayoral candidates! In a recent public hearing conducted by the Rent Guidelines Board in Manhattan, three of the Democratic candidates for mayor, City Council Speaker Christine Quinn, Public Advocate Bill de Blasio and City Comptroller John Liu, said that they were against a proposed increase in the rents for rent-stabilized apartments in the city.
Earlier this year, the Rent Guidelines Board had recommended that landlords of rent-stabilized apartments should be allowed to raise the rents of their properties, with one-year leases seeing a price increase ranging from 3.25 percent to 6.25 percent, and two-year leases seeing a price increase from 5 percent to 9.5 percent. In addition to these hikes, tenants of rent-stabilized apartments who pay rents less than $1,000 a month would be subjected to an additional charge, which tenant advocates have dubbed as the "poor tax."
As expected, the proposal, which will be voted upon on Thursday, June 20th, caused uproar among the tenants of the million or so rent-stabilized apartments in New York City today. Given the incredible rise in the cost of living in the city today, New Yorkers are certainly not in the mood for having more additions to their financial burden. Quinn, de Blasio and Liu agreed with this sentiment, saying that landlords have already profited immensely with the current housing crisis in New York City, and tenants now deserve to catch a break.
The landlords, on their part, argued that the proposed increases were absolutely necessary—some actually went on to say that these hikes weren't even enough to cover the costs they have to face to keep their properties safe and secure for their tenants. After all, given the drubbing many buildings in the city received during last year's Hurricane Sandy, landlords say they need to fortify their buildings from other potential flooding situations in the future, and they claim that increased rent revenues are the only way they can finance these protective measures.
If the Rent Guidelines Board votes to go ahead with these increases, then residents of the rent-stabilized apartments in New York City will be seeing increased rents on their homes starting October 1st. Given the upcoming mayoral elections, this show of support by Quinn, de Blasio and Liu toward the tenant community is hardly that surprising, but it is still a painful thorn in the sides of the landlords. The final vote, which will happen at 5.30 pm in the Great Hall at Cooper Union on 7 East 7th Street, promises to be an extremely compelling decision all New Yorkers should watch out for.