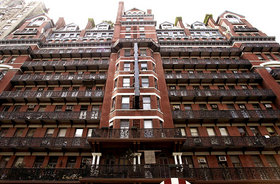 It's something of an understatement to write that the Chelsea Hotel is among one of the most famed Bohemian landmarks in Manhattan, given that it has been the epicenter of artistic Chelsea and Boho Manhattan for over a century. The long list of notable musicians, writers, and artists who have frequented the hotel's 125 rooms -- roughly make up half of what is considered artistic New York, give or take -- have produced a slew of homages, from Leonard Cohen's Chelsea Hotel to countless others with less on-the-nose titles. The Chelsea has been adapted into literature, music, art, and film, but now faces a new and perhaps most difficult adaptation, now that the Chelsea landmark has hit the real estate market. It's strange, but it's true -- once haven to several of the greatest artists ever to call Manhattan home and inarguably the most iconic Chelsea rental listing in history, the Chelsea Hotel is now a prized piece of Chelsea property for sale. The on-the-market status of the Chelsea Hotel is noteworthy both because it's not every day that Manhattan real estate legends hit the market and because of what it means for Chelsea's past, present and future.
A bit of thumbnail history is probably in order. The Chelsea Hotel's glory days came, in large part, while it was under the ownership of Stanley Bard. After his 50 year reign as the Chelsea's owner, Bard was cut from the picture. Bard was famous for the way he treated his residents and guests -- he was legendarily selective about who could and could not stay in the hotel, and he frequently (and wisely) accepting works of art as compensation. "For an 80-year period or so, the hotel hosted pretty much every talented New Yorker with a rebellious streak, leading to quite the impressive Wikipedia entry," Curbed's Joey Arak writes. "Hotel management would famously accept works of art or other nontraditional barters in lieu of rent when tenants fell behind. With a sale, those business practices, if not completely gone already, will really disappear."
But while a new owner for the Chelsea Hotel will likely mean a different attitude and future for the Chelsea, it's also likely to make an impact on the neighborhood itself. The end of Bard-style largesse is predictable enough -- Manhattan, for all its lovely new construction rental listings, is not much of a place for an artist anymore -- and a Chelsea Hotel with less tolerance for unorthodox, artist-friendly business practices may or may not condition the departure of the hotel's popularity among the art and music celebrities whose presence did so much to define Chelsea as the art hub that it is. But there's a consideration here beyond the bottom-line real estate concerns, and that symbolic weight is why so few real estate pundits have been able to stomach speculating whether this artistic monument is doomed to a new life as a Best Western. For the most part, the tone has been one of overwhelming nostalgia and stubborn hope.
Chelsea has moved on, as New York City does, and has emerged as one of Manhattan's most appealing neighborhoods. But, in a way that has little to do with real estate trends and more to do with a certain ineffable identity, Chelsea needs the Chelsea Hotel. Among the new construction condo listings in Chelsea, the Chelsea Hotel stands out as an old-style, red-brick beacon among the glass-sheathed, super-futuristic aesthetics associated with such contemporary new construction Chelsea rental listings as the Chelsea Landmark, Echelon Chelsea or The Beatrice. The contrast with Chelsea's sleek new buildings makes the Chelsea Hotel doubly visually stunning, and its symbolic contrast is no less glaring. The Chelsea is a place of nostalgia for not only the Bohemian celebrities who once graced the rooms with their artistry, but also for its role in creating the New York City that still lives in the popular imagination -- and, to a degree, in contemporary Chelsea.
It's difficult to envision that a price tag juxtaposed against the famous/infamous 12 story red brick hotel on 23rd Street. But most observers have hope -- and believe it is inevitable -- that the new owner of Hotel Chelsea will be familiar enough with its background, legend and high and low times, to know what kind of treatment such a landmark deserves. Anyone with an interest in buying the Chelsea Hotel is probably less your average real estate investor than a collector, and thus presumably already well aware of its historical importance and the connection to New York City. That's the hope, at least.