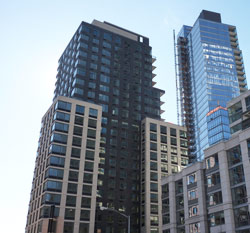 It's a trend we've written about over and over again -- with Manhattan condos seemingly a sketchier investment than in years past and still out of just about everyone's price range, more and more people are opting for Manhattan rental apartments over condos. There are, as we've also noted here at the Luxury Rentals Manhattan blog, good economic reasons for this, but there's another, simpler reason why the market for Manhattan rental apartments is surging while the condo market is stagnant. That other, simpler reason being that new construction Manhattan luxury rentals increasingly offer the same high-end finishes and fixtures, and similar suites of amenities and extras, as their condo counterparts -- and offer it without the economic anxieties that come with a mortgage, a co-op board, and all those other, less-desirable condo extras. But while it's not necessarily surprising that high-end luxury rentals are bouncing back from the Manhattan real estate downturn than condominiums, there's also more to the reason why this is so than the fact that both top-tier new construction NYC luxury rentals and high-end condos feature SubZero refrigerators and expansive suites of amenities. Although that obviously doesn't hurt.
The most interesting thing to emerge from Candace Taylor's definitive piece in The Real Deal about the new crop of high-end new construction Manhattan rental listings is that the developers behind these big-ticket projects -- Larry Silverstein's Silver Towers and Extell's Ashley (above), among others -- are actively ramping up the luxuries in their luxury rentals even while condos scale back in an attempt to make their listings more affordable. This is good news for renters -- even when those renters are paying anywhere from $2,500 per month to $5,000 per month in rent -- but it's also definitively not how the rental development business has traditionally worked. "While condo developers have had to alter their floor plans and retool their marketing campaigns to emphasize value over luxury, rentals haven't followed suit," Taylor writes. "One reason for the demand for such high-end rentals is, ironically, the continuing credit crunch and shaky economy, experts say. 'It's a function of the mortgage market drying up,' said Pamela Samuels, the principal of Trio Partners, a new development venture that is looking to build rental projects as well as condos. Because it's time-consuming and difficult to get a mortgage, well-off New Yorkers are choosing to rent instead of buy, she said."
That last point about well-heeled NYC dwellers opting for luxury rentals over condos is one that we've written about previously here at Luxury Rentals Manhattan -- most recently, in the first paragraph of this very blog post. But Taylor buries what is, for those browsing Manhattan rental listings, the most important bit of news in her article -- that superstar new construction rentals such as The Beatrice and Ohm are still offering beaucoup concessions, and renting for less per square foot than their developers expected. In short, while Manhattan luxury rentals are more luxurious than anyone ever thought imaginable, it's worth noting -- and worth celebrating, if you're looking for a Manhattan rental apartment -- that all that luxury is also much more affordable than anyone expected. Is all this breaking news? No, probably not. But news this good bears repeating.