When Sheffield 57,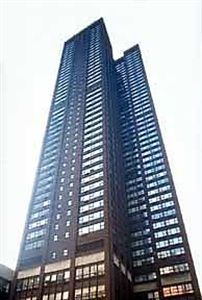 a luxury Manhattan apartment building on 57th Street, was originally built in 1979, it was a colossal building, standing 58 stories tall and holding 845 New York apartments for rent that tended towards the small; it was a building for lower-income families who wouldn't mind the cramped living conditions if it meant they could live in the Clinton neighborhood.
Fast forward to 2005, when real estate investor Kent Swig bought the building for a then-unheard of $418 million, with an eye towards consolidating the apartments for rent and turning them into luxury condos for sale. But the purchase and subsequent plans for renovation sparked a battle between the developer and the tenants who already lived there. Renters wondered what would happen to their apartments, whether they'd be able to stay, and if they'd be able to put the rent they'd already paid towards a purchase.
The back-and-forth between Swig and Sheffield's residents proved too much for the developer, who auctioned the building in 2009 amid legal and financial troubles. But the luxury apartment building near Central Park was soon picked up by a team comprised of Fortress Investment Group LLC and Rose Associates, and while residents of the building have spent the intervening years in limbo, it appears finally that the building is back on its feet.
The Sheffield is currently comprised of 580 condos, with a large handful of tenants still in apartments for rent who were grandfathered into the building. With the blessing of the current residents, the new developers have redone the amenities so that they now include two floors devoted to amenities that range from a day spa and fitness center to laundry service and a 24-hour concierge. Not to mention that the building has finally made good on an old promise: a giant indoor pool on the top floor.
The recent success of the Sheffield is indicative of the turn in the market: a building that was once a seemed to be a disaster is now over 75% sold. It also is an interesting look at a former rental building that offers great rates for the tenants fortunate enough to ejnoy the retained space inside. It is, if nothing else, an interesting and unique Manhattan apartment building with a story worth telling.